Use an amusing poem to explore the good, the bad and the ugly in fairytales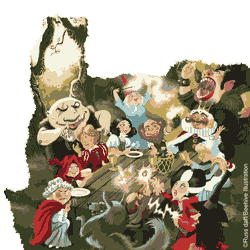 Provide children with Activity sheet, 'Here come the Fairytales' and read it together. The poem encourages children to imagine a scene where characters from many fairytales, good and bad, are gathering to enjoy a party. Encourage recognition of well-known stories and heroines, such as 'Cinderella' and 'Little Red Riding Hood', and discuss the other characters who feature in fairytales, such as a prince, witch, giant and bad fairy. Can the children list any characters from fairytales that are not mentioned in the poem, such as Hansel and Gretel, and Goldilocks? Which are the children's favourite characters? Remind them that these characters are all imaginary – they have all originated in a story that has been passed on through oral storytelling or reading. Help them to imagine a scene where books are opening up, and characters are 'falling from pages' in order to travel to the party.
Activities
1. A magical scene
Ask the children to draw background scenes of castles, turrets, rivers or forests, and then create cut-out models of fairytale characters to place on their illustrations, showing them coming 'Out of the castles, down from the turrets/Leaping the rivers, and racing through forests'. Invite the children to tell the group about a character they have chosen for their illustrations. Suggest that they write a short couplet about the character, which will then be assembled into a class poem, starting each line with 'Here is…' and finishing with simple rhyming words. For example:

Here is .......... having some fun.

Here is .......... eating a bun.

2. Heroes and villains
Discuss what makes a hero or heroine. For example, being brave or kind, or where the audience feels sorry for the character, such as Cinderella. Contrast these qualities with those of wrong doers, such as the wolf tricking Red Riding Hood, or the Queen's vanity in Snow White. Invite the children to create a new fairytale using these ideas. Older or more able children might like to reverse roles, by making us feel sorry for the wolf in Red Riding Hood, or perhaps mixing up stories.
3. Where are your manners?
Invite the children to role play 'baddies' at the dining table. Let them choose their favourite 'bad' character, and demonstrate what mischievous things they might do. For example, the troll might flick food over other diners and the wolf might chase grandmother! The bad fairy might put a spell on people, or turn sausages into worms. Make a collection of the children's ideas before weaving them into a class poem.
4. A fairytale recipe
The poem 'Here come the Fairytales' lists many ingredients needed to create a fairytale. It has the settings, good and bad characters, and artefacts, such as a ring and a wand. Ask the children to imagine a book shaped like a giant cake tin. Into this book they will need to add all the things that would make a great fairytale. List their ideas for ingredients in the form of a non-rhyming poem that concentrates on descriptive or alliterative phrases, and imaginative use of quantities suitable for a recipe. For example:

A spoonful of spells.
A bag of magic beans.
One wizened witch.
Two flimsy fairies.

Challenge the children to invent an exciting item to 'stir' it all together with. Then, give each child a circle of yellow paper to write one ingredient from the list. They could also add a small illustration to their word. Afterwards, fasten all the circles together as a class book called 'Recipe for a Fairytale'.