Use literacy activities based on the magic and intrigue of the forthcoming Inkheart film to inspire creative writing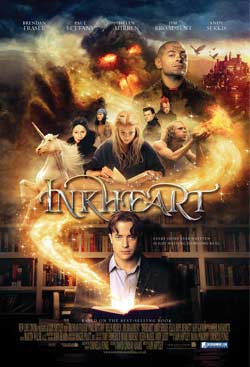 The forthcoming release of the film Inkheart (Dec '08) – an adaptation of Cornelia Funke's book of the same title (Chicken House, £5.99 PB) provides a great opportunity to explore story features that can spice up reading and writing. The story introduces father and daughter, Mo and Meggie, who are searching for a mysterious book, and with that book to put right a terrible wrong that was committed many years ago. We also learn that Mo has a special power that makes incredible things happen when he reads aloud. Explore the film using our exclusive activities, scripts from the film Inkheart (note: scripts are in US English), posters, author interview and trailer at www.inkheartmovie.com
Activities
1. Exploring characters
If more than one character in a story sets out on a journey, it pays to ask 'Why?'. Each character brings something to the venture. In Inkheart, we have Mo and Meggie who are joined by Elinor and Dustfinger. Children can reflect on the part each individual plays. It is hard to imagine Meggie without Mo, but what does old Aunt Elinor bring to the story? Teams are also important when it comes to crooks. Inkheart presents us with a gaggle of crooks, each memorable in their own way.
Look at how the teams are portrayed in the film. Apart from dialogue, are they highlighted in any other way – through lighting, setting or body language?
Ask the children to talk through the contribution various characters make to their teams. They can relate this to other films they have seen. Working in groups ask them to devise their own character teams. What sort of traits will characters exhibit? If one is to be utterly heroic, could the team also do with a coward or a sneak? Will one have a special power?

Exclusive interview with Cornelia Funke
Could you tell us something about your own experiences as a young reader?
I was a book eater. My father and I went to the local library all the time to feed me. I was raised in a small town and the books were my windows and doors to a bigger and much more exciting world. I don't know how I would have survived without them.
In a way, we always depict getting caught up in a book as a warm and cosy experience. In your story—it's dangerous. Can you tell us something about the idea of a Silvertongue?
I guess every passionate reader knows the feeling of characters from a book often feeling as real or even more real than the people we know. When I decided, therefore, to do a story where they step out of the pages, I wracked my brain to find out how that would happen. How about the human voice? I asked myself. Nothing can make the words on a page come alive in a more powerful way. So… I decided that one of my main characters would be a Silvertongue, a truly magical reader, who could read characters out of books. In the German original he is, by the way, called Magic Tongue, but we felt that didn't sound quite right in English!
The dad and daughter relationship is interesting, with Meggie being quite assertive and Mo preoccupied. How did you work that out as you wrote the book?
I wanted to first of all have the love of a father for his daughter at the heart of my book, as I have a wonderful father. And I thought it might be interesting to show a rather young father, whose daughter had to sometimes look after him as much as he had to look after her. It makes me very happy that many fathers have come to me to tell me how much it meant to them to read Inkheart to their daughters.
We're faced with an unusual gaggle of villains in Inkheart. How do you set about making such a pit of villainy?
I always find it very hard to create the villains. I don't want them to be cliche, but neither do I want them to be more interesting than my heroes. I don't believe that evil is more glamorous or interesting, I think it is crippled and twisted. But I also want to show it as real as possible, as otherwise I feel I am cheating my readers.
As a German you think a lot about evil. We learn as children what our grandfathers did to their neighbours. We learn about betrayal and how fear can make you support evil, or at least, not stand up against it. I realised learning about the mechanisms of fascism that evil uses love as its cruellest weapon: what do you do when your children are threatened? Do you fight for strangers when your beloved ones are endangered by that? I fear I wouldn't. I let my villains in Inkheart know what a powerful weapon this is, and exactly how to use it.
2. Character relationships
There are fascinating relationships between Inkheart's characters. Ask the children to write the names of the characters on cards and place them face down. Working in twos, they should each take a card and discuss the relationship between the two characters. The film includes some of the classic relationships found in stories:
Meggie and Mo: the protective parent who is faced with a child ready to join them in an adventure.
Mo and Dustfinger: the outsider who tries to join up with the hero, but we're never quite sure whether such duplicitous characters can be trusted.
Mo and Aunt Elinor: the cold, 'set in her ways' character who is drawn into the adventures of the younger hero.
Invite the children to explore the techniques used to reinforce/enhance character relationships using the Posters, 'Inkheart' and Inkheart trailer. What costume, mood lighting and music effects are used?
3. Unfolded secrets
Stories tease their readers. Why should a simple request like 'Read to me' be as scary as it appears when we first encounter it in the film? It provides a great example of the way stories keep things secret, until the big mystery is revealed. Does the trailer hint at the film's mystery?
One of the unfolding secrets is the magical powers characters have. In Inkheart, we realise this quite early on, but it still surprises us later on. It's worth noting that, as is clear in Inkheart, a special power can be a good thing, but also a curse. What does the first of the 'Scripts from the film Inkheart' activity sheets, 'Inkheart Dialogue: Extract 1' reveal?
4. The McGuffin
Alfred Hitchcock referred to the 'McGuffin' – the object or goal everyone in a story was concerned with. In Inkheart, the quest for copies of a mysterious book drives Mo. Children could think through other stories and try making a 'McGuffin' list.
The really special feature of Inkheart is the way that we discover just how special Mo's real goal actually is. Read the second of the 'Scripts from the film Inkheart' activity sheets, 'Inkheart Dialogue: Extract 2' with your class and talk about Mo's quest.
Further information
The book, Inkheart by Cornelia Funke (Chicken House, £5.99 PB) is available now.

Don't forget this month's National Year of Reading theme is 'Screen reads'. We've got a fantastic article full of activity ideas by Film Education. You could use the Inkheart resources to tie in with your National Year of Reading activities.
Inkheart © TM & © MMVIII New Line Productions, Inc. All rights reserved; cast – Brendan Fraser, Paul Bettany, Helen Mirren, Jim Broadbent and Andy Serkis