Badges, a computer tool and origami – a simple sticky note can be surprisingly versatile…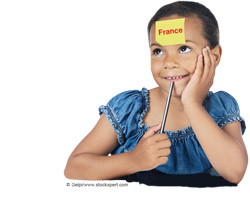 Play a quick guessing game with the help of sticky notes
1. Tell me, show me
There are many ways to assess if children are grasping an instruction or task and the traffic light system is one such way of finding out. Jazz up this assessment technique by using funky sticky notes, instead of plain coloured card. Children will see that their level of understanding and way of informing you doesn't have to be dull or strict. There are a whole host of sticky notes out there, so you can adapt the following ideas to suit what you can find, or customise your own by drawing symbols on plain sticky notes. So, rather than a colour-themed traffic light system you could use a tree or flower to denote 'I understand'; a jigsaw shape to denote 'I'm not sure' and a question mark to denote 'I don't understand'.
2. Who am I?
This is a popular game among children and adults alike – having to guess which famous person a member of the group has written on a piece of paper they have stuck to your forehead. It's a great game for the classroom and can link to numerous topics or projects. The beauty of using sticky notes for this game is that they come ready made, ready to stick, so there's no need to worry about getting in a mess with sticky tape! Again, you can liven things up by using sticky notes that link to the topic or theme you are studying. For example, if you have been studying trees found in your locality, you could play the game using a tree-shaped sticky note. Or, if you have been studying transport or holidays, you could use a transport-themed sticky note for a game of 'Where in the world am I?'.
3. 'X' marks the spot
When children undertake independent work, such as reading or researching, you could hand out tab-style sticky notes that they can use to mark pages as they go. For example, when reading independently – whether fiction or non-fiction for a particular task – the children may come across words that they don't understand, or information they want to check or ask you about. Instead of having to try and remember or make notes as they go and lose their place, they can use the tab-style sticky notes to mark exactly what or where they need to go back and reference. This is a handy tip to pass on, especially to upper Key Stage 2 children, who will find it a helpful aid when they make the transition to secondary school and have to read longer texts.
4. Virtual stickies!
Got 101 things to do by the end of the week? Sick of your computer being covered in sticky notes, and a slight hint of a breeze blowing them away? Well, help is at hand! Yes, there are even such things as virtual sticky notes. Type 'virtual sticky notes' into a search engine and you'll get lots of links where you can download free desktop sticky notes. You can use them to manage your diary, as reminders or 'to do' lists, and customise them by colour, font and size. You can even email desktop sticky notes to your colleagues or children, to remind them of particular tasks. In an age when children are so computer literate, it might serve as a fun way for them to set their own reminders, too. (Seek the advice of your ICT coordinator and ensure that you have read the T&Cs of any websites before committing to downloads.)
5. Get creative
Sticky notes are so hassle free that you can use them for a number of quick tasks. For example, if you've run out of stickers, a stash of object-shaped sticky notes can come in handy to congratulate a child for their work or behaviour (a star) or to appoint them as a buddy (a teddy bear). You could set the children a task of creating sticky-note art – where they have to create a picture using only sticky notes. You could make the task more difficult by only providing them with different coloured squares, for example, or a landscape or object they have to replicate. You can even use them to create origami! Check out David Mitchell's book Sticky Note Origami (Collins & Brown, £6.99 PB).
Win £100 worth of books!
Do you have a resource that you find has endless uses? Are you a whizz with paperclips? Or a dab hand with buttons? Then we want to hear from you! Email your '5 ways with' ideas to junioredplus@scholastic.co.uk write to our address Junior Education PLUS, 5 ways with, Scholastic Ltd, Villiers House, Clarendon Ave, Leamington Spa, WARKS CV32 5PR, or post a link on our forum teacher talk. The best ideas will appear in Junior Ed PLUS and each school featured will win £100 worth of books!