Pegs are perfect for a cheap and cheerful classroom resource…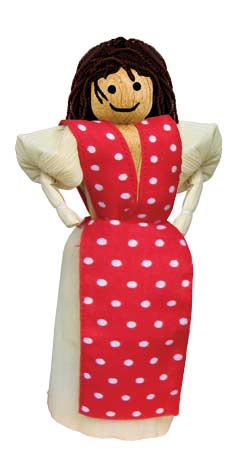 Use inexpensive wooden pegs for a whole host of fun craft activities
1. Treasure pegs
Challenge your class to a treasure hunt with a difference! Hand out a prepared series of questions (a range of easy, intermediate, and difficult) based on your current teaching topic and in teams, get the children to answer them within a set time limit. Say that the teams can choose which questions to answer in the time available – for example they can decide whether to answer all of the easy ones or just a few of the more difficult. Explain that for each correct answer, you will hand out a clue to the location of a coloured peg hidden around the school grounds. Explain that red pegs are for the easier questions and are worth 10 points; yellow pegs are for the intermediate questions and are worth 25 points and blue pegs are for the most difficult questions and are worth 50 points. Once all of the teams have their collection of clues, tell the children to head outdoors to discover their peg treasure! Which team will return to the classroom with all their pegs first? Which team has the most pegs? Which has the most points?
2. Peg pockets
Pin up a washing line in the classroom. Invite the children to make simple pockets using an A5-sized piece of felt/fabric folded in half and stitched or glued along one side and the bottom. The pockets can be personalised with motifs or names if the children wish. Ask the children to each bring in a small item from home that will fit inside their pocket, for example a coin, a button, a photo or a postcard. Next, peg the children's pockets onto the washing line. As a simple literacy stimulus, pull out at random one object from a pocket and invite the class to write an exciting story starter featuring that item.
3. Peg + peg = pegs
Pegs make for a really cheap maths resource and the fact that they're a bit different from regular cubes and counters will immediately grab children's attention. Collect a bucket of pegs and set the children maths activities. For example: How many pegs do you think are in the bucket? How long do you think the playground measures in pegs? What is the ratio of yellow to red pegs? How many pegs weigh the same as 1kg?
4. Peg profiles
Peg up a selection of clothes on a washing line – the more unusual/comical the better. This is a great activity to do first thing in the morning or straight after lunch so that the children enter the classroom with no forewarning of what it all means! Invite the children to study the mysterious items on the washing line and then create a written profile of who they think they belong to. Once they have built up an impression of this character, tell them to design a 'Wanted' poster from the clothes' point of view – for example:
Wanted: Cheerful owner for extra large, bright red suit with matching accessories. This comfy suit is great for travelling long distances and will keep the owner lovely and snug during cold weather. Only jolly applicants need apply.
5. Peg craft
Pegs lend themselves to all sorts of art and craft activities. Peg puppets are easy to make using the old fashioned 'dolly peg' variety, small scraps of fabric tied around them and a simple drawn-on face. Why not make some fairytale characters as part of your Fairytale Kingdom project? (See www.scholastic.co.uk/fairytalekingdom for more activities.) You can also make fun minibeast pegs using the conventional wooden variety as a body and thin wire, card and pipe cleaners to create wings and antennae.
Win £100 worth of books!
Do you have a resource that you find has endless uses? Are you a whizz with paperclips? Or a dab hand with buttons? Then we want to hear from you! Email your '5 ways with' ideas to junioredplus@scholastic.co.uk write to our address Junior Education PLUS, 5 ways with, Scholastic Ltd, Villiers House, Clarendon Ave, Leamington Spa, WARKS CV32 5PR, or post a link on our forum teacher talk. The best ideas will appear in Junior Ed PLUS and each school featured will win £100 worth of books!
Discover "'Five ways with… sticky notes'!':/content/5119