Two games to help broaden children's vocabulary in relation to colour. Players 'apply' for jobs in a paint factory, and help sort and name paint shades.
The games can be played individually or in small groups.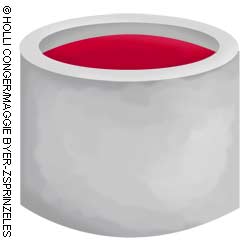 Shared work
Copy, enlarge and cut out some of the colour names on your colour charts and try to match to the colours.
Talk about the names and why they are more creative than the basic colour names of blue, green, etc.
Share the children's experiences of decorating at home, and ask if they have ever been involved in the process of choosing colours.
Playing the games
Prior to playing the games, read both job adverts and click on the tab to apply for one of them. These tabs hyperlink to an introduction within each game.
Previous learning
Children need to: know the names of the common colours; have experience of using drag and drop on the computer.
Preparation
Provide a collection of colour charts and assorted coloured objects and materials. Sort the objects by colour and shade. Create a colour display for reference.
Job 1
The children can use drag and drop to replace paint droplets into the correct buckets. The droplets are not coloured but include a word relating to red, green or blue. If the droplets are placed in the correct bucket it begins to fill with the appropriate colour. If the droplet is dragged to the wrong bucket it will not fill.
This game can be played collaboratively or competitively, with up to three children (one child per colour).
Job 2
This game is non-competitive but can be played with up to three players. Each player has an on-screen colour chart. They must invent a colour name for each section of the colour chart.
Children choose one word from the base colour pot. These are the words used in the game for Job 1.
They then choose a second word from the inventor's handbook to enhance the base colour word.
Finally, they drag both words onto the colour chart to name the shade.
Key learning outcomes:
To recognise automatically an increasing number of HF words;
To listen to and follow instructions accurately, asking for help if necessary;
To experiment and build new stores of words;
To take turns to speak.
Using the activity sheet
Enlarge the activity sheet and cut out the individual words.
Children choose a base colour word and an adjective to use together as a paint colour label for an object or artefact on the colour display.
The children can mix their own colour shade to match the names – link to activities for On-screen resource 1, The power of colour
As a follow-on activity, develop shades and tones for other base colours and name them.