A game with a garden setting in which players move around a garden path, recognising and reading colour words and some additional descriptive words.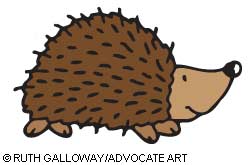 This game is for two or three children or two small teams.
Children should be encouraged to read the words by applying their phonics knowledge. Some will need to be read as 'tricky words'. Initially, adult support will be helpful. The game could be used to support other work on adding descriptive detail – eg, characters or setting in story writing.
Preparation
Cut out the words the activity sheet below. Laminate if necessary and place in a pile, face down, on the game board. You will also need a dice and counters for each player/team.
Previous learning
The children should have some familiarity with the words prior to using the game.
Playing the game
Each player chooses a plain stepping stone on the garden path as a starting point and places a counter on this space.
The first player rolls the dice and moves their counter the correct number of spaces. If they land on a stepping stone with a rainbow symbol, they pick up a card from the pile of colour words on the large rainbow on the poster.
The child should then read the word and look for an object of this colour in the picture – for example a 'yellow' chick.
When they have found the object, they should look at the other words on the poster to find one that is appropriate to describe it, eg, a 'fluffy' yellow chick. There may be more than one possibility, eg, 'soft', yellow chick. When they have described the object they can put a counter of their colour on top of it, to claim it as theirs.
Play then moves on to the next player. Used colour cards can be removed from play or returned to the bottom of the pile of colour cards.
If the player lands on a stepping stone without a rainbow symbol, play moves immediately to the next player.
The aim of the game is to gain more objects than the other player or team, by placing more counters on the objects on the poster.
The winner will be the player or team with most counters, eg:

The first to cover six objects (or any other specified number up to six);
After all the objects have been covered;
Within a given time limit.
Key learning outcomes:
To apply phonic knowledge and skills as the prime approach to reading and spelling words;
To recognise automatically an increasing number of familiar high frequency words.
Variation
Focus on the colour words only, reading and matching them to an object, but without using the additional descriptive words.