With strong links to the Key Stage 1 science curriculum, this poster offers a basic explanation of where light comes from and how we see plus instructions for making a rainbow.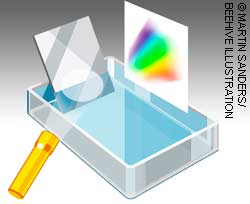 While there are a few technical words in this text that the children will need support with, the poster can be read during shared reading with Year 1 and 2. Year 2 children could use it independently to find out information.
Shared reading
Download the poster and use the

IWB

torch tool to reveal parts of it. Show headings, a diagram, bullet points, and a photograph. What sort of poster is it? What is it about?
What can the children remember about non-fiction texts?
Choose a section to read together. Remind the children to use phonics to sound out words.
Were any of the words new to them? Discuss one word. Can anyone explain what it means? Start a glossary.
Read the other sections through together, adding new words to the glossary as you find them.
Ask the children how we can use the text to find the answer to a question – eg, What is the main place light comes from? Model using the headings to find the answer.
Note down other questions that can't be answered using the text. Help the children to answer them by using books or the internet.
Previous learning
Children should: be able to distinguish fiction/non-fiction texts and different purposes for reading them; recognise the features that shape non-fiction texts; recognise automatically an increasing number of familiar HF words.
Preparation
Collect: non-fiction books about light and colour; prisms; shallow trays for water; mirrors; white paper/card.
Group and guided activities
Read the instructions for 'How to make your own rainbow'. Encourage the children to try this activity independently. Model writing an explanation of what you did and what you discovered.
Ask the children to make a colour chart, using the

IWB

or a basic word processing package, for the Reception or Nursery children to use. Show each colour and write the word next to it, spelled clearly and accurately.
Challenge the children to find and list materials that are transparent. They might need to use a torch to investigate this.
Ask the children to look closely at their eyes using a mirror, then to draw and label the parts of their eye. Can they use non-fiction books to discover what the coloured part of their eye is called?
Using the activity sheet
Use the activity sheet to create a mind map of sources of light. Help the children to understand that light comes from different sources – natural, fire, electricity (mains and battery), reflective.
Key learning outcomes:
To read more challenging texts which can be decoded using acquired phonic knowledge and skills, along with automatic recognition of HF words;
To recognise the main elements that shape different texts;
To listen with sustained concentration, building new stores of words in different contexts.
Differentiation
Would some of your children find these activities too difficult or too easy? You can download a chart below, showing how to differentiate all of these activities.
Plenary
Read some of the children's questions and model how to use other non-fiction books to find the answers.