Scope is a national disability organisation whose focus is cerebral palsy. Its vision: for disabled people to achieve equality. One of its campaigns, Time to Get Equal, includes a pioneering project called In The Picture which aims to encourage authors, illustrators and publishers to embrace diversity – including disabled children alongside their non-disabled peers in illustrations and storylines in books for young readers.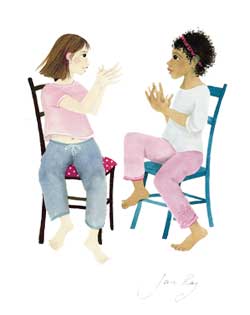 Sense of isolation
Launched in 2005, In The Picture hopes to raise the profile of the 770,000 disabled children in the UK who have virtually no role models in literature.
The project targets books for younger readers, because they contain the first powerful messages that help children make sense of the world. SCOPE believes that the absence of images of disabled children in these books reinforces the sense of isolation they often experience – and affects the attitude of non-disabled children, too.

"I think by having disabled characters in books it increases awareness of children … I would like to see it helping children to not stare at disabled people and to have more consideration for disabled people in the community – for example, opening doors for them. I am not put off by books without disabled characters – however, when I do read books with disabled characters in, I feel pleased. One of my favourite books is called Sleepovers by Jacqueline Wilson (who is my favourite author). I like it because one of the characters is disabled and it's interesting to hear the things that are said about her."
Lauren Dempsie, Age 17, who has cerebral palsy
Research has shown that perception of disability is formed early in a child's development and children are more likely to accept disability if they see images of disabled people at an early age.
In The Picture believes that all children should be able to see themselves reflected in the world around them. Subliminal messages can be equally as important, for example in posters and wall displays, as well as in their favourite books. Children are notorious for picking up on fine detail.
Powerful endorsements
The project is supported by highly-respected authors and illustrators. Author and former school inspector, Gervase Phinn, says in the website guestbook:
"Children so much identify with the characters in the books they read. It is massively important, therefore, that reading material should contain characters which reflect the great diversity in society. I feel passionately that disabled children should feature in stories and poems, plays and non-fiction writing."
A parent of a child with Down's Syndrome was equally emotive, commenting that, "children are desperate to see themselves in literature. Disabled children are positively starving for it."
Joyce Dunbar, author of more than 70 books for children, has been part of the In The Picture steering group since the project began in 2005. She says:
"So many children's books are about unconditional love. Guess How Much I Love You is the best-known example, but what about the children who need reassurance more than most, who are simply not there, not visible, not even in the picture? This initiative is to make sure that they are there not necessarily as the star of the show, but incidentally, as part of the tapestry. Twenty years ago, children from minority ethnic groups were similarly disregarded, but that is unthinkable now. I am deaf myself and so is my son, so this is of particular concern to me. "
"We read to know we are not alone. No matter what our situation in life, to see ourselves mirrored in a book is a solace and a refuge. That is the healing power of books. By turning a blind eye and a deaf ear to those most in need, we deny that power. That's why this campaign is so important."

Joyce Dunbar
Making a difference
By working closely with authors like Joyce, and with illustrators and publishers, In The Picture is beginning to make a difference. There is a growing recognition within the book world that diversity must be recognised not just for its own sake, but because there is a large potential market among schools, nurseries, playgroups, childminders and parents that is eager to buy books that help promote a more inclusive world.
The focal point of the campaign is a website, www.childreninthepicture.org.uk, packed with tools, resources (including image banks of illustrations and photographs), and information to inspire schools and early years' settings to provide a more inclusive service to all children. Teachers are able to get involved, too, either directly with the project or by using some of its many resources with their children.
Some of the images on the website, which were originally aimed at illustrators, have proved useful for facilitating discussions around disability equality in a bright and lively way. Moira Munro, author and illustrator of the Hamish the Bear books, explained: "You don't just leave us with good intentions, you give us the resources. The image bank has some good examples, and by following the links in your Good Practice Guidelines I found images of equipment I wouldn't otherwise have known how to draw…"
Our pledge:
Scholastic has always illustrated children with disabilities but, in recognition of the importance of the In the Picture campaign, every future issue of Literacy Time PLUS will contain at least one illustration featuring a character with a disability.
Moira has gone on to champion the project at every opportunity and has consulted the project for the books she is working on.
Other resources available on the website include:
Booklists of recent children's books that demonstrate good practice around the inclusion of disabled characters.
Information sheets to assist inclusive practice and give ideas about how to make stories more accessible to all children.
A fun way to introduce the Social Model of Disability using Valerie Thomas' and Korky Paul's Winnie The Witch story.
A children's section, with inclusive colouring pictures to download and a gallery showing work sent in to the project by youngsters.
Further resources
Imagine the difference (SCOPE) – A free and easy-to-use resource designed to help teachers of Key Stages 1 and 2 deliver lessons, assemblies and circle-time activities about celebrating diversity and difference in a fun, engaging and thought-provoking way. For more information visit www.scope.org.uk/imaginethedifference/