A rich multimedia resource exploring the story of Billy Elliot – with a story synopsis, audio and text extract, background notes and details of the London stage show.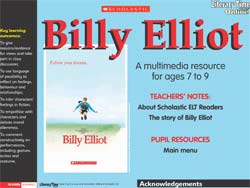 Shared learning and teaching
Before using the resource
Introduce the concept of a stereotype, focusing on gender roles in work and hobbies. Establish opinions/preconceptions held in the class. Make statements such as 'Girls shouldn't play rugby/football', 'It's important for men to show that they are strong'. Support with pictures. Invite children to stand along an imaginary line with Agree at one end/Disagree at the other and to justify positions taken. Emphasise good listening skills. Invite children to shift position as a result of what they hear, and explain why.
Draw up a list of hobbies/activities, categorising them as Boys', Girls' or Both. Discuss why traditionally held stereotypes exist and why people would want to challenge them.
List dance forms – ballroom, ballet, street, breakdancing, tap, tribal, etc. In groups, discuss whether all forms are equal, or whether some are more suitable for boys/girls. Ask spokespeople to feed back. Emphasise that there are no simple right/wrong opinions but opinions should be respected and can change.
Previous learning
Children should: have experience of the rules governing good discussion in groups and as a class; be familiar with navigating websites.
Note:
The Universal Studios movie Billy Elliot has a 15 certificate in the UK and contains some language and content which is not suitable for young children. Teachers are advised to choose any extracts for classroom use with care, and to preview any footage shown in the classroom.
Sharing the resource
Outline the story of Billy Elliot, setting it in the context of a mining town, and a family without a mother. Share the synopsis and discuss how the coal-mining tradition might contribute to the opinions of Billy's father and peers.
Share the chapter from the

ELT

reader, using the audio facility. Establish the voice as Billy's. Why has Billy kept ballet a secret from his brother/Dad. Why is boxing 'alright'?
Speaking, listening and drama
Thought-track Billy's school friends on finding out about the ballet lessons.
Create freeze-frames showing moments suggested by the chapter – Billy struggling to keep up in the class; boys laughing at him; Gran's reaction; Dad when he finds out, etc.
Hot-seat Billy, Dad, Gran, Michael and the dance teacher.
Improvise short sketches showing playground reaction from Billy's peers. How is Michael's reaction different?
List Billy's positive and negative feelings about ballet – display in two columns inside a large empty outline of Billy on the wall.
Key learning outcomes:
To give reasons/evidence for views and take part in class discussion;
To use the language of possibility to reflect on feelings, behaviour and relationships;
To infer characters' feelings in fiction;
To empathise with characters and debate moral dilemmas;
To comment constructively on performances, including gesture, action and costume.
Whole-class or group activities
Explore the Billy Elliot The Musical website – www.billyelliotthemusical.com. Watch the video diaries and show clips. Make notes about the skills the boys who play Billy demonstrate, their parents' reactions and comments from their teachers and people involved with the production.
Share thoughts on the experience of performing in a West End show like this. Does it matter that it involves boys doing ballet? Is ballet different if it leads to fame? How stereotypically masculine are the skills shown?
Discuss how the video clips of real children performing influence class opinion, compared to reading/listening to the story. How many children would like to see the show or be able to perform in it?
Links to writing
Use the activity sheet below to explore how an author conveys a character's feelings.
Write about dreams and ambitions.
Plenary
Summarise and explore opinions. Have opinions about ballet changed?
Discuss the differences in storytelling between the stage show, the book and the film.