An extract from a new historical adventure story – Grim Gruesome Viking Villain, The Cursed Sword by Rosalind Kerven – complete with strange runes, daring adventures, bloodthirsty pirates and a mysterious fortune-teller.
These teachers' notes accompany the PRINT ONLY guided reading leaflet in Literacy Time PLUS Ages 5 to 7 November 2008.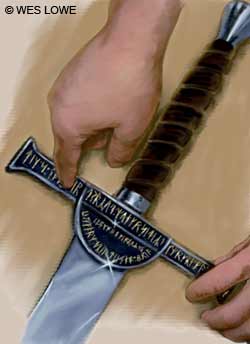 Before reading
Briefly explain the context of the extract. Analyse the title. What does it infer about the genre, setting and likely subject of the story? Point out that Grim Gruesome Viking Villain is an example of alliteration.
Establish which kind of books the children like – historical, adventure, mystery? Ask for reasons for opinions. List elements that we might expect to find in this genre – eg, sorcery, suspense, evil villain, brave hero.
Which other stories include a special sword (eg, King Arthur's Excalibur, Peter's sword in Narnia, Gryffindor's Sword in Harry Potter)?
Explore vocabulary relating to parts of a sword – eg, hilt, blade, scabbard.
Previous learning
Children need: experience of reading historical adventure stories; an understanding of how a writer uses figurative and expressive language to create images and atmosphere.
Key learning outcomes:
To read and analyse examples of adventure mysteries in an historical setting;
To use settings and characterization to engage readers' interest;
To extend knowledge of favourite authors;
To know and apply common spelling rules;
To distinguish the spelling and meaning of common homophones.
During reading
Let the group decide how to read the extract – eg, taking turns or by allocating roles.
Remind them to use the punctuation as a guide to expression and effect.
Ask them to think about how atmosphere is being built-up throughout the extract.
Responding to the text
Encourage initial reactions by asking the children what questions they would want to ask each character. Eg, What could the ominous stains on some of the swords be and how does that make them feel? How would they feel if they were Bjarni?
Scan the text for clues about the setting. How does the author build up a picture in the reader's mind? How do we know it's an historical setting? Which words/phrases create the mystery (eg, treasure … buried in a forest; gleamed in the storm-light).
Explore how the author uses verbs and adjectives that relate to sight, sound, smell and touch in her descriptions.
What can be deduced about the characters?
Has the author made the reader want to find out more?
What might happen later?
Further reading … Work by Rosalind Kerven
Grim Gruesome Viking Villain, The Cursed Sword (Talking Stone, 978 09537 45432).
The Snake Boy (Group reading leaflet, Literacy Time Years 3 and 4, Issue 41, May 2005). A folk tale from the rainforests of Rwanda.
The Man-in-the-Moon (Poster, Literacy Time Years 5 and 6, Issue 34, January 2005). Humorous tale.
English Fairy Tales and Legends (National Trust Books, 978 19054 00652). Retellings of 12 classic tales of giants, dragons, fairies, beauties, beasts and Arthurian Romance. Each tale is linked with a specific place or county in England. With notes on each story's origins and development.
You can read more about Grim Gruesome at Rosalind Kerven's website, featuring fun facts and free resources to download.
Ideas for writing
As a note-taking technique, create a graph to show how the atmosphere darkens and builds. Note how the weather worsens; additional facts deepen the mystery and descriptions add to the thrill.
Draw a labelled diagram of the sword. Suggest the class design and make their own swords – giving each sword unique and special powers.
Write a film script based on the extract, thinking about camera angles and lighting effects. What music or sound effects might be added?
Create posters to advertise a film version of the story. Use the book cover for inspiration and use

ICT

for presentation.
Plan the next part of the story. How does Bjarni persuade Astrid's uncle to part with the sword? Does he win a place on the pirate ship?
Write a letter from Bjarni to the pirates to persuade them to offer him a place on their ship.
Find out more about: Rosalind Kerven and her work; Viking runes.
Using the activity sheets
Use the activity sheet below to extend vocabulary and knowledge of spelling conventions.
Use the

SAT

-style activity sheet as assessment practice.
Plenary
Invite individuals to talk about their sword designs, inviting comments and suggestions for design improvements. Vote on the best sword.
Discuss the different ideas for what happens next. Develop a class plan from the best ideas.