Literacy Coordinator Mim Barnes describes an animation project with a Robin Hood theme which transformed her class into a united band of merry men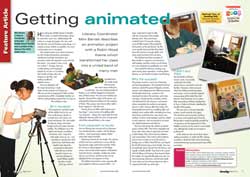 Here at Breydon Middle School in Norfolk we've been a Creative Partnerships school for about four years now, collaborating with artists on a range of projects. Our aim, each time the new round of funding comes along, is to include as many children as possible. Our most recent project was no exception.
We wanted to learn more about animation. So, the Creative Partnership coordinators introduced us to Britta and Martin, animation artists who agreed to work with half the school – two classes in Year 4 and two in Year 7. To begin, they ran a staff meeting, and we played happily for an hour making clay models of frogs with curly tongues to zap flies, and making cardboard skeletons dance.
We were delighted with the magic of pressing a single button on the computer and seeing our stills join up into an engaging (if rather clunky) animated piece of film. Completely hooked, we left the meeting feeling prepared for two days of film-making in class.
All in the detail
The preparation sounded simple: all the children had to do was form small groups, decide on a simple story and create a six-frame storyboard. Oh, and model the figures, design and make backgrounds and create character profiles. The challenge was in the detail: learning the vocabulary of camera work – long shot, wide-angle, close-up, etc – and recording on storyboards what shots to use. Each frame also needed notes about the movements to take place within the two or three seconds it was to run, and any dialogue or sound effects needed.
My class was the last to go, and we benefited from the reality check that everyone else had in terms of the time it would take. We were studying Medieval Realms, so my children begged to animate the story of Robin Hood. We read some ballads and legends, discussed the origins of this genre, and evaluated the historical evidence for the existence of Robin. Then groups were free to either retell a known legend or write their own.
Having done very little model-making since Key Stage 1, some revision of modelling skills was necessary – along with a great deal of sweet-talking the cleaning staff who were not impressed with all the coloured blobs on the carpet.
From classroom to studio
Our two filming days arrived and my classroom was transformed into a studio, with five filming stations – each comprising a laptop, digital camcorder, tripod and light.
Further information
Martin and Britta work for Media Projects East, a production company involved in video, animation, drama and web design. They form partnerships with community groups and schools, working on a range of projects. For further details, go to www.mediaprojectseast.co.uk, email Martin, or call him on 01603 504879.
For more information on the Government's creative arts programme, Creative Partnerships, visit www.creative-partnerships.com
Explaining what to do was simple. The camera is fixed, and once each frame is set up with the appropriate angle, need not be touched. What the camera is seeing appears on the laptop screen, and one key stroke captures a still picture. Once the frame is complete, another key stroke sets up a new frame, and the camera can be adjusted for the next sequence of shots.
The children learned how many separate stills were needed to make one second of film – 12 shots, duplicated to total 24 stills, with tiny movements of the models between each. Then each frame needed to last 3-5 seconds, making up to 60 little tweaks of the models for each picture on the storyboard. My film crews quickly discovered that they didn't know their stories in enough detail, and some rapid rewriting had to be done.
The children found the animation of their models as magical as we had at our staff meeting, and they could run each frame as it was completed so gratification was swift.
We created five hilarious, exciting, even quite moving short animations, involving Robin, Marion, an evil Sheriff and quite a lot of kissing.
Why the success?
The project covered a vast array of teaching and learning objectives. We evaluated historical evidence; studied the genre of legend, narrative structure and adapting text for different purposes. We thought about tense – present on the storyboard to instruct the animator; past when narrating. We learned the vocabulary of film, and discussed how the choices a cameraman makes manipulate the audience's perception, just as a writer's choices affect the reader. We dramatically advanced our modelling skills and applied many number skills: calculating how long each frame would last, how many shots were needed, and how much dialogue could be added to each sequence. And we learned to use some new digital equipment and software.
But most importantly, the children practised group working skills. They had to negotiate and share roles, learn when to step back and when to take charge. They had to exercise patience and concentration. They had to solve problems, such as how to make an arrow fly across a background, or Robin Hood fall into a pit dug by the Sheriff (solved using a stunt double, who was painstakingly sliced into bits from the feet up, and equally carefully rebuilt). They had to do a great deal of talking and listening. They learned about the realities of a superficially glamorous job: it is time-consuming, laborious, and the best results come when you have the persistence to redo a sequence that didn't go quite right.
It didn't end there
The final DVD, of all four classes' work, was proudly watched by the whole school. But our work didn't end with the film: it became a theme around which the children produced posters and reviews, and rewrote their legends incorporating all the detail they had learned. Their final task was to write a letter persuading a fictitious headteacher to 'buy in' Britta and Martin, detailing the benefits of the project.
This was such a rich and enjoyable project I would certainly do it again. We only have one camcorder, but there is so much work involved apart from the filming that it would be perfectly possible for one group to use the equipment at a time. DigiBlue cameras can be used in a very similar way, although the results are not quite so professional.
At the outset our aim was to learn about making animations. In reality, the film-making provided a vehicle for half a term's fascinating contextual learning covering several areas of the curriculum.