From thinking up spoooky stories to writing a vampire diary, author Tommy Donbavand offers some spooky ideas for some literacy fun around Halloween.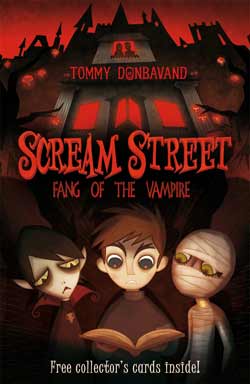 Scary Scribes
Have you ever wanted to be an author and write spooky stories of your own? Well, here's your chance!
Here (in blue type) is the first paragraph of a terrifying tale. All you have to do is pick up from where the first paragraph ends.
Sam pushed open the door to the old haunted house. It creaked on its hinges, as spiders skittered away from the shaft of light. Suddenly, he found himself faced with a…
Imagine what might happen to the main character, Sam. What does he find inside the haunted house? Are there ghosts, ghouls or even creepier characters waiting to meet him inside? The choice is yours!
When you've finished your scary story, draw some pictures to go with it and think up a title for your tale. Then you can staple all the pages together and make your own brilliant book!
Tommy Donbavand is the author of Fang of the Vampire in the fast-paced series for seven- to nine-year-olds called Scream Street.
Scary, but great fun for both boys and girls, the books have already received great critical acclaim:
"Exactly the sort of grisly, gross and hilarious stuff that kids will love!"
—Eoin Colfer
"A great read with some great characters. 'Fang of the Vampire' sets up what promises to be a fantastic series!"
—David Melling
There are currently four titles in the Scream Street series, with four more to follow in 2009.
Weird Words
Can you make up some weird and wonderful new words to describe scary situations? Here are a few ideas to get you going…
Fwiffy – the feeling you get when all the hairs on the back of your neck stand up.
Glark – the noise you make in the back of your throat when you see a ghost.
Canklepash – the sound of a skeleton falling down the stairs in a haunted house.
See how many creepy new words you can think up!
Dreary Diary
Imagine you could become a vampire, werewolf or zombie for a day! Which one would you choose and why?
Write a page from an imaginary diary that tells of your exciting adventure!