An interactive dictionary game inviting children to match 30 Space-themed words to their definitions. Complete with printable dictionary.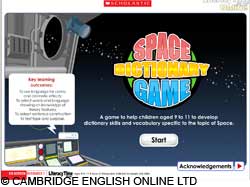 In this interactive dictionary game, players are presented with an alphabetical list of 30 words – all related to the topic of Space.
Clicking on a word will give three possible definitions. The alternative answers are designed to promote discussion.
A complete list of the words and their definitions, with usual dictionary conventions, is provided as an answer sheet/printable dictionary.
Sharing learning and teaching
Before using the resource
Challenge the class to create their own list of Space-related words. Discuss how to present this as a dictionary or glossary and define some of the words.
Discuss whether it is best to read all the instructions before playing a new game or to learn as you go along.
Previous learning
Children need to: have knowledge of phonics, morphology and etymology to spell new and unfamiliar words; know and apply common spelling rules; be able to group and classify words according to their spelling patterns and their meanings.
Sharing the resource
Share read the introduction – 'How to play'. Discuss the presentation and the use of the imperative. Pick out the key instructions to get started.
Play the game as a whole class: each group choosing a word and suggesting a definition, while others discuss if they agree providing reasons to support their views.
Demonstrate how to check answers by clicking on the hyperlinks.
Responding
Compare some of the definitions with the children's attempts. Had they defined familiar words in a clear, concise manner?
What strategies did groups use to choose which word to define? How did they use their phonic and graphemic knowledge to help them pronounce any unknown words?
Pronounce unfamiliar words by breaking them into syllables, remembering that each syllable includes a vowel phoneme. Discuss when the vowel is stressed or unstressed.
Key learning outcomes:
To select words and language drawing on knowledge of literary features;
To adapt sentence construction to text type and purpose;
To understand the process of decision-making;
To be able to employ a range of strategies to spell difficult and unfamiliar words;
To explore how word meanings change when used in different contexts;
To use

ICT

programs.
Dictionary games
This is the third in our Literacy Time PLUS Key Stage 2 interactive dictionary game series. Previous games include:
Ancient Egyptian Dictionary Game Literacy Time PLUS for ages 7 to 9, Issue 56, November 2007
Olympic Dictionary Game Literacy Time PLUS for ages 9 to 11, Issue 53, May 2008.
Group and individual work
Allow a group to continue playing. Encourage them to consider strategies for deciding on their answers, and working as a group.
Challenge more able students to research unusual words to find their derivation: origin and root. Can they find other words with the same root? For example, nebula/nebuliser/nebulous – derived from the Greek word for 'mist'.
List compound words that include 'tele' (from the Greek for 'far off') or 'scope' (from the Greek for 'look at').
Create a spelling game with three different grapheme choices for a word – eg, meatier, meetiore, meteor. Players have to justify their spelling choice.
Using the internet, add words to the list, creating alternative definitions. Write these words and definitions on cards to be read to the rest of the class.
Create new versions of the game with words specific to the children's hobbies and interests – or other classroom topics.
Encourage use of the new vocabulary in the children's factual writing about Space.
Give a less able group some of the words and definitions printed on card and ask them to find ways to sort them.
Use the activity sheet below to reinforce the learning of new vocabulary, derivations, morphology and etymology.
Plenary
Share the list of 'tele/scope' words. Think of other words for a similar list.
Play a reverse version of the game: give a definition and ask which word it defines.
Challenge the class to find other words in their reading to add to the dictionary.
Give three plausible spelling choices for individual words from the list and ask the class to pick the correct one, giving reasons for their choice.