An interactive resource, complete with pop-up labels, pictures and captions, about the space ark Perseus, which carries people around space searching for new planets to colonise. Perfect inspiration for extended narrative writing.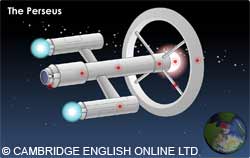 Shared learning and teaching
Sharing the resource
Explain that you are going to use the online resource as a stimulus for extended narrative writing.
In pairs, let the children explore the resource, but suggest that they read the main caption first.
Set questions to ensure that they explore and read the entire resource.
Previous learning
Identify/discuss features of a fiction text and how language is used for effect; understand how visual images/sounds can be used alongside words to tell a story; navigate an interactive non-linear text.
Preparation
Discuss films, books, comics or stories on the topic of space, especially adventures where the characters search for new planets to inhabit. Discuss their factual knowledge about space exploration and real-life searches for planets which can sustain human life.
Space log
This on-screen resource can be used in conjuction with The Ashton Family Space Log in the guided reading leaflet inside this month's issue of Literacy Time PLUS.
Responding
Share first impressions of the Perseus. How would they feel if they had to live there? Explore the issues of leaving family and friends behind, or moving with family and friends to live on the ark.
Describe reasons for leaving Earth. Encourage vivid description and plenty of detail and record useful ideas.
Build up a picture of how a character would settle into a new life on the ark.
How might the inhabitants feel when they discover the new planet, Hestia?
Revisit the scene on Hestia. Discuss how time connectives can be used to signal the passage of time. Explain that, when writing their extended story, they will tell it in the first person, from the point of view of one of the first generation on Hestia, describing to his/her grandchild the story of how s/he came to be there. Model writing an introductory paragraph, incorporating a suitable hook to draw in the reader.
Group and individual work
Explain/model the structure of adventure stories. See Grammar for writing, ref 0107/2000, Part 3, Section 1 (p152-153).
Lower ability children could write their story in a working group with adult support. Other children may prefer to work with a talk partner or work individually.
First, create the main narrator character. Emphasise the importance of sticking to the first person. Build up the character: Where did they live on Earth? What job did they do? Why were they chosen to go aboard the Perseus?
Use the storyboard on the activity sheet to map out the story. Revisit the online resource frequently to provide a stimulus for descriptions and action.
The story could be word processed and supported with sound effects and animations. Use the Space dictionary in On-screen resource 1 to widen vocabulary. Less able children may write their story using PowerPoint, each page representing one of the storyboard paragraphs.
Key learning outcomes:
Derived from the three teaching phases of Y6 Narrative Unit 2 – Extended Narrative
To engage with contemporary/online texts;
To identify the features/structure of an adventure text/use as a model;
To collaborate to develop/extend fiction writing on paper or on screen;
To use connectives;
To use language to create an impact.
Plenary
Choose two stories which present particularly useful narrative points and photocopy four times.
Work in groups of five, allocating each group member a different coloured (red, blue, green, yellow or purple) sticker. Ask the groups to read/discuss the two stories, pulling out positive points and identifying interesting words, phrases, dialogue. (Refer to Grammar for writing.)
The children then move into new groups (all the reds together, etc) and disseminate and share the ideas from their original groups.
Come together as a class and celebrate the best things about the work.