11-year-old Niva Rajendran gives her account of an exciting day at BAFTA, in London's Picadilly, where she picked up the Film Education award for Junior Film Critic of the Year (Sensory Impaired Category)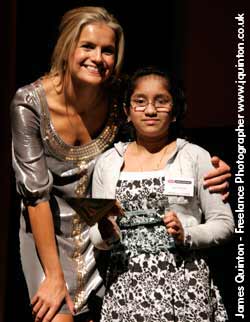 Niva poses with former Blue Peter presenter, Katy Hill, at the award ceremony at BAFTA.
From the moment I woke up, I was buzzing with excitement and anxiousness. I couldn't contain myself.
At school, I told my friends about it. They supported me and were happy for me. Soon, the beginning of break loomed near; I just couldn't wait to go, although I was missing my favourite subjects.
As soon as I got home, I got changed. Waiting for my mum to get home, something caught my eye in my mum's jewellery box…A stunning, shiny pair of diamond earrings. The front door opened, my mum was home. Before I knew it, my hand reached for the earrings. I glanced in the mirror; I looked so different to my normal, shy and simple self.
I just wanted to win to prove to myself that I could do something if I put my mind to it.
Before long, we were on our way to London. It was a lingering, lacklustre journey. The journey came to an end eventually and we reached our destination. We were welcomed into a room full of guests chatting and drinking. Sadly, none of my family and cousins was able to come.
Soon, the ceremony had begun…
The moment I had been waiting for since the news that I had been shortlisted reached me. I just wanted to win to prove to myself that I could do something if I put my mind to it.
The nominees were called out …
The winner is…
... then I heard my name. I was overjoyed, I walked down the stairs, watching my every step; I had nightmares of me winning and tripping over on the way to stage and making a fool of myself in front of everyone.
Niva Rajendran is a child at Wallington High School for Girls in Surrey. Read her review of the animated children's movie, Horton Hears A Who, which is now out on DVD.
I couldn't believe it, I won!
It felt like a dream come true.
This is an account of one of the happiest days of my life.