This descriptive poem about the Moon is written by the classic American poet Emily Dickinson (1830-1886). The poem is evocative and features examples of simile and metaphor. The downloadable version of the poster has hot spots. Click on these to view additional screens with information about other planets' moons. Children can use these to inspire poems of their own, written in a similar style.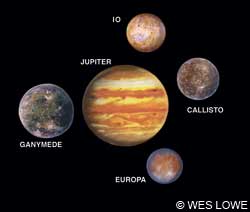 Shared teaching and learning
Before reading
Construct a mind map detailing facts and descriptive features of the Moon – eg, colour, craters, and position in the solar system. When reading the poem, check which features are alluded to.
Discuss typical features of a poem – eg, rhyme, metre, simile and metaphor. Elicit examples of similes and metaphors from the children.
Previous learning
Before trying these activities, carry out some research on Emily Dickinson and find out key points about her life and what was happening in America during her lifetime. Children will need some knowledge of the features of the Moon and the history of the Moon landings.
Key learning outcomes:
To infer writer's perspective; explore how language used for dramatic effect/creates impact;
To compare how a common theme is presented in poetry, prose, other media;
To compare how writers from different times/places present experiences and use language;
To select words and language drawing on knowledge of literary features.
Shared reading and responding
Read the poem chorally, emphasising its rhyme and metre. Identify the rhyming words – eg, ago, below – and classify the rhyming system (a,b,c,b). What do the children notice in verse 4?
Appraise the text quickly and comment on its value and quality.
Discuss how Emily Dickinson describes the different phases of the Moon – 'The Moon was but a chin of gold/A night or two ago/And now she turns her perfect face/Upon the world below.' Look at photographs or diagrams showing the changing shape of the Moon. How else can it be described – eg, crescent moon, harvest moon?
Identify the similes – eg, 'Her cheek like beryl stone'. Identify the metaphors – eg, 'Her lips of amber never part' or 'Her bonnet is the firmament'. How do these impart information in interesting, descriptive ways and create dramatic effects?
Infer the poet's perspective on the Moon. Is it positive or negative? Find quotes to support views – eg, 'And what a privilege to be/But the remotest star!'
Comment on Emily Dickinson's ability to offer a lot of information and description about the Moon within just a few lines, while maintaining coherence and creating impact. She does this using different sentence structures, inverted phrases and enjambment.
Ideas for writing
Notes down all the information the poem contains about the Moon.
Compare how writers from different times and places present information about the Moon, in all kinds of genres – from factual, scientific writing to newspaper articles, explanation texts, picture books and poetry (see Further reading). How do the styles, uses of language and sentence structures differ? Choose a text type and write about the Moon using the correct features.
Use the activity sheet to write a poem based on your research on the Moon or another planet. Include information, as Emily Dickinson does, on its appearance and position in the solar system and include similes and metaphors. Use an

ICT

program to present the poem, utilising different fonts, colours and graphics.
If they could meet and interview Neil Armstrong or Buzz Aldrin, what questions would the children ask? Write these down.
Create PowerPoint presentations about the Moon, including facts learned, poems and interview questions.
Further reading
I Took the Moon for a Walk Carolyn Curtis, illustrated by Alison Jay (Barefoot Books, 978 18414 88035). Stunning picture book in which a young boy embarks on a magical adventure with his friend, the Moon. Told in lyrical verse.
Reaching for the Moon Buzz Aldrin (Collins, 978 00605 54477). The Apollo 11 astronaut recounts a journey that began in his childhood and led him to achieve his dream of walking on the Moon.
Space Poems Chosen by Gaby Morgan (Macmillan, 978 03304 40578). Poems about galaxies, the moon, planets, stars, rockets, astronauts, UFOs, aliens, black holes, the Milky Way and even space pets!
Plenary
Ask the children to present their own poems. Compare and contrast them with 'The Moon' in terms of language, descriptive imagery, style and structure. Which is more effective and why?
Find and share other poems about the Moon which are comical. Compare with 'The Moon' in terms of language, rhyme and metre.
Share the PowerPoint presentations