The National Year of Reading theme for November is Screen Reads, exploring the diversity of reading and writing. Here, two very special reviewers offer their thoughts on the film Horton Hears A Who. Why not use their writing to inspire your children to become young film critics?
During National Schools Film Week (taking place right now in Scotland). more than 405,000 children are being given the change to go to the cinema with their school.
The week is organised by the UK charity Film Education and is the only festival of its kind in the world.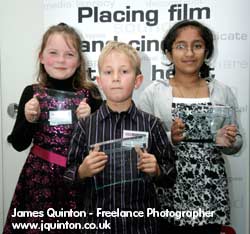 Ruby and Niva line up with six-year-old Mini Film Fan James Cave at the awards ceremony.
As part of the celebrations for NSFW, Film Education runs an annual competition to find the Young Film Critic of the Year. Budding young writers are challenged to write a review in 200 words.
The new 2008 Junior Film Critics (7 to 11 age group) are Ruby Daniels, aged 9, from Corpusty Primary School in Norfolk and Niva Rajendran aged 11 from Wallington High School for Girls in Surrey (in the sensory impaired category).
The two newly-crowned winners have written a review of Horton Hears A Who which is released on DVD this week.
Why not share their reviews with your children and see if you can inspire them to become young film critics. Who knows, they might even be inspired to enter the competition next year.
Horton Hears A Who (DVD)
Reviewed by Ruby Daniels (age 9)
I'm really nervous about writing this review because I have only just been crowned winner of 'The Junior Film Critic Award' for 2008 (Friday, Oct 17th) at BAFTA (British Academy of Film and Television Arts) in London and this is the first review I've had to write since.
Read an interview with Ruby Daniels and find out about her forthcoming column in Literacy Time PLUS here.
I'm sure everyone knows the fun to be had when imagining the possibilities of a parallel universe and Horton Hears A Who deals with this potentially confusing topic with great skill, humour and love.
The opening sequence promises a visual feast and the animators at Blue Sky Studios (creators of Ice Age) certainly come up with the goods.
The main characters, Horton (voiced by Jim Carrey) and The Mayor of Whoville (voiced by Steve Carrol), are a likeable pair, despite the ongoing irritation that nobody believes what they say.
There are plenty of funny moments, my favourite being the request of a bedtime glass of water from not one…...not two…..but ninety-six of the Mayor's ninety-seven children.
Overall, this DVD is a joy to watch and should easily withstand repeat viewings. Recommended!
Horton Hears A Who (DVD)
Reviewed by Niva Rajendran (age 11)
Horton Hears A Who is about an imaginative elephant who hears a cry for help from a tiny speck of dust floating through the air. Suspecting there might be life on the speck (despite the surrounding community thinking that Horton has gone mad, which is fairly normal to everyone who lives in Horton's neighbourhood), he is determined to help, more than ever.
Read Niva's account of her day at the Young Film Critic of the Year Awards here.
I think this film questions your mind as to whether there really can be life in the least expected place ever (like on your actual body) or even on other planets.
The graphics, I thought were really animated and had a radiant splash of colour added to it, just to make it that bit more lively.
I think the film in general appeals to the mind of juniors and young children because the imagination put into this usually comes from a child and also it has a kick of humour.
Overall, I would rate it 4 stars and I thought it was a comical, imaginative and successful film for children.