Nine-year-old Ruby to have her own Literacy Time
PLUS

column

1 November 2008

Add to My Folder

This item has 5 stars

of a maximum 5

Rated 5/5 from 3 ratings (Write a review)
Nine-year-old Ruby Daniels has just been crowned Junior Film Critic of the Year and has now been offered a regular column in Literacy Time PLUS. Find out more in this exclusive interview.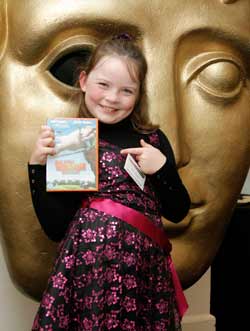 Ruby poses before a giant BAFTA award at the prize ceremony.
Last month we reported on Film Education's Young Film Critic of the Year awards, which took place at the British Academy of Film and Television Arts (BAFTA) in London's Piccadilly.
Hosted by broadcaster and former Blue Peter presenter, Katy Hill, the awards were organised by Film Education and offered a once-in-a-lifetime opportunity for young writers between the ages of 4 and 19.
Ruby Daniels (age 9) of Corpusty Primary School in Norwich won the Junior Film Critic Award for her review of Kung Fu Panda. After the ceremony, Ruby spoke to Helen Watts, Editor of Literacy Time PLUS, about what winning the award meant to her and about her passion for writing. This is what she said.
So how does it feel to be crowned Young Film Critic of the Year?
"Amazing really. I know that I've won. But I've kind of been thinking 'That's my prize, that's my prize', because I've been writing ever since I was about four or five years old.
"The National Year of Reading theme for November is Screen Reads, so it's a great time to announce that Ruby is to have her very own column in Literacy Time PLUS. I was so impressed with Ruby when I met her. She was captivating and quite delightful. I am thrilled that she has agreed to write for us." Helen Watts
Have you really? What kind of things have you written?
I remember I read the first 'Rainbow Fairies' story and I loved it so much, but I didn't have any of the others in the series. So I remember saying to myself, 'I know, I'm going to write my own one'. Ever since then I've been writing. I write a tiny bit of a story every night.
So what film did you review for the Young Film Critic Award and what made you choose it?
Kung Fu Panda. It was a film I had seen recently in the cinema. I liked the subject of it. I thought it was funny: the idea of a fat panda doing Kung Fu. I must have given it a good review as they might not have chosen it otherwise!
What do you think made the judges choose your review as a winner? What do you think made it special?
I wouldn't say it was special, but my Dad said that quite a lot of people would use phrases like 'I think' and 'We went' all of the time. I didn't tend to do that very much. So I think that was one of the good things about it.
Was it quite difficult having to write to a specific word limit?
It was difficult. When I first wrote my review, it was about 65 words. I had to go out and I knew that if I waited until I got back I would have missed the deadline. So I had about half an hour to finish it. I had to add quite a bit in on the computer. I was really worried that they wouldn't accept it because it still wasn't bang on 200 words. But my Dad said, "Ruby, look, it's fine." And he was absolutely right.
So what are you going to tell all your friends when you go back to school?
Oh, I've been having phone numbers plastered on me. Everyone – uncles, grandparents, parents friends – all asking me to phone them as soon as I get some news. Everyone has been saying that it's not the winning that counts, it's the taking part. Although this morning I did have a call from my Uncle Jason who said, "Ruby, remember this, it's the winning that counts not the taking part." He was joking of course!
You obviously do a lot of writing. Would you like to be a writer when you leave school?
No, I don't want to be a writer. I want to be a teacher. I want to teach literacy to Years 3 and 4. I think the reason is that at school I had the most fun in Year 3 and 4. I had this really amazing teacher. She was really nice to me the whole two years and she helped me all the way. So she inspired me to teach the same year group as she did. But I will stick with my writing too.