The ChildEd PLUS team took a backseat for a month and handed control to one of our readers. How did she find the experience?
So, how does a perfectly ordinary Year 1 teacher and literacy coordinator get to be splashed all over the pages of a classy magazine and get a fabulous trip to its head office thrown in? Well, it's quite simple as it happens. It all started back in the winter of 2007/8 when I spotted an article in ChildEd PLUS asking for applications to be guest editor for the December issue. This seemed like a very long way off, far enough away to be almost unreal and not at all scary… or so I thought.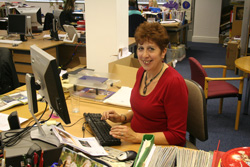 After doing my best to make myself sound interesting in an email to Mike, the editor, I forgot all about the whole idea. I was then stunned to get a phone call in early June saying that I had been chosen. Help! What could I do to make my issue of the magazine stand out? I hadn't been teaching in Key Stage 1 for that long and was previously both a Year 4 and Year 6 teacher. ChildEd PLUS has been extremely useful to me in the transition period, when I was wondering why I had exchanged large, sensible children for little, rolling-around ones.
What a drama!
My big teaching passion is drama, so that was the obvious focus to choose. I had also told the team about my interest in linking curriculum areas using creative thinking skills. However, since my application I had been on a fantastic training day at Little Bealings School in Suffolk, where I learned all about a scheme called 'Mantle of the Expert'. This takes drama and role play much further than I had tried to do previously. It links subjects in such a way that even reluctant learners are energised, becoming independent researchers and communicators. Sounds too good to be true? That's what I thought – until I saw it in action. The staff at my school, St Edward's, all bravely agreed to try the new way of working this term.
The hub of creativity
All I had to do now was to go (by this time completely terrified) to the hub of creativity – the ChildEd PLUS office. My aim was to turn up in the peaceful town of Leamington Spa and convince the team that my ideas were interesting and useful enough to fill a magazine. In fact, the few days I spent finding my way around the office were amazing. Everyone there was so enthusiastic that my plans grew and grew, with the results here before your very eyes!
I hope you'll enjoy reading about the ups and downs of my term's work – Santa's Workshop (pages 17-22) – and the way that the 'Mantle' has impacted on the learning at St Edward's (pages 12-14). I'll also be giving you tips for starting a drama group (pages 52-53), Year 1's book reviews (pages 60-61) and resources (pages 62-63), to give your teaching a boost as you hurtle towards the festive season.
I'd like to take this opportunity to thank the ChildEd PLUS team – this has been an amazing experience and I would advise you to apply without further ado when the next guest editor post is advertised.