Literacy Time PLUS is offering subscribers a brand new set of Progress Record Charts enabling teachers and children to work together to identfy progress in reading and writing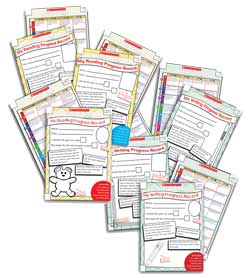 QCA's Assessing Children' Progress (APP) programme is now being rolled out in schools across the country.
Based on a set of assessment focuses (AFs), the APP approach aims to improve the quality and reliability of teacher assessment while also making it more manageable for the teacher. It involves teachers stepping back periodically to review children's ongoing work, and relating their progress to national curriculum levels, using judgements rather than an accumulation of small statements.
The APP programme aims to provide teachers with the skills to:
look at an overview of performance based on a wide range of evidence, both when reading and writing is taught explicitly and when these skills are used in other subjects or contexts;
recognise connections between children's performance in areas such as writing across subjects or reading for pleasure;
write a detailed profile of what a child can do;
identify areas to be developed to inform planning;
assign a national curriculum level from an informed, holistic judgement of each child's achievement rather than by calculating marks in tests.
The APP resources are free to download from the DSCF website.
Here at Literacy Time PLUS, we were wondering how best to help teachers to develop assessment for learning in reading and writing when one of our regular authors and consultants, Karys Matthams, got in touch.
Karys is English Coordinator at Breckland Middle School in Norfolk, where, she told us, she had been working on APP and Assessment for Learning with other staff in her department. She explained:
"Although we liked the principles of APP, we felt that the grids were not child friendly and therefore would not help them much with self assessment and becoming independent learners.

"As I was responsible for improving writing across the curriculum, I was devising ways to help children self assess their writing and when Literacy Time PLUS asked for ideas that would help teachers with assessment, I offered the grids we had been developing in school."
Available to download
The grids Karys gave us have been worked up into the Reading and Writing Progress Record Charts which are now available for subscribers to download.
The charts are designed to be completed by the child and teacher working together, and there are three charts available to downoad for both Reading and Writing:
For Reception, Year 1 and Year 2 – covering EYFS SP 7 to Level 2;
For Years 2 to 6 – covering Levels 2 to 5;
For more able Year 5 and 6 children – covering Levels 5 to 8.
Karys Matthams continued, "Since the introduction of the grids, we have found children are able to monitor their own progress more accurately and better identify areas they need to work on in order to improve. Teachers are more confident in their assessments as they have plenty of evidence to support their judgments and do not have to rely on snapshot tests."
"These look super – at school we're really into self assessment and anything that raises children's awareness of how to self-improve."

Carol Forster, teacher, Monkwray Junior School, Whitehaven, Cumbria
How to use the Literacy Time

PLUS

Reading and Writing Progress Records
Each chart comes with a title sheet for the child to complete, decorate and colour in. They can record the level they were on at the start of the year and their target level for the end of the year.
When using the progress records, the child reads the statements, with the help of their teacher where necessary, along each row on the chart. Each row explores one Assessment Focus (AF). They are encouraged to talk about each statement with their teacher then to colour in the statements which are true about them. The teacher or child can then add a date in the space provided to show when the child achieved that skill.
The teacher will be able to see clearly for which level the child has the most coloured-in statements, in order to make a 'best fit' judgement for that child.
The child can also read through the statements for the next level and discuss with their teacher what they need to do to develop their reading or writing skills further.
What are the Assessment Focus for Reading and Writing?
Reading
AF1: Use a range of strategies including accurate decoding of text, to read for meaning.
AF2: Understand, describe, select or retrieve information, events or ideas from texts and use quotation and reference to text.
AF3: Deduce, infer or interpret information, events or ideas from texts.
AF4: Identify and comment on the structure and organisation of texts, including grammatical and presentational features at text level.
AF5: Explain and comment on writers' uses of language, including grammatical and literary features at word and sentence level.
AF6: Identify and comment on writers' purposes and viewpoints and the overall effect of the text on the reader.
AF7: Relate texts to their social, cultural and historical contexts and literary traditions.
Writing
AF1: Write imaginative, interesting and thoughtful texts.
AF2: Produce texts which are appropriate to task, reader and purpose.
AF3: Organise and present whole texts effectively, sequencing and structuring information, ideas and events.
AF4: Construct paragraphs and use cohesion within and between paragraphs.
AF5: Vary sentences for clarity, purpose and effect.
AF6: Write with technical accuracy of syntax and punctuation in phrases, clauses and sentences.
AF7: Select appropriate and effective vocabulary.
AF8: Use correct spelling.