Design a pot for a tree seed and plant the tree in a local area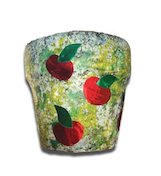 Key Stage 1
Curriculum links: Sc2 1c; 3a-c; 5a-c. Art 2a-c; 4a-b; 5a.
What to do: Conduct an investigation into the trees that grow in your local area. Find out if there are some that flourish or perhaps some that aren't best suited to the environment. On this basis, decide on some trees that you would like to grow.
First, design a pot for your tree based on what you are planting. Take a cheap plastic plant pot and cover the sides in small strips of newspaper dipped in a mixture of PVA glue and water. Do not cover the inside or the bottom of the pot. Add two or three layers until you have covered all the gaps. When this has dried, paint a layer of black paint over the pot to cover all the newspaper print. When this is dry, use a sponge and dab a mixture of two base colours onto the pot – green and yellow would look good, but make your decision based on the type of tree you are growing. When the paint is dry, add some decoration, again based on the tree. If you are planting an apple pip, for example, you might like to cut out some bright red apples and green leaves from shiny paper and stick these onto your pot.
Once you have added your decorations, add another coating of PVA glue and water mix to your pot – this will act as a protective coating. When the pot is dry you can plant your seed or pip in some soil, water it and place it on a sunny windowsill. While you are waiting for it to grow, make some plans about where you will plant your baby tree when it is big enough. You may want to gain permission to plant it somewhere around the school grounds or in a local park.
Key Stage 2
Curriculum links: Sc2 1b-c, 3a, 5a-c; Art and design 2a-c, 4a.
What to do: Investigate local trees to establish which ones are best suited to their environment. On this basis, decide on some trees that you would like to grow. Next, take a plastic plant pot and cover the outside with a couple of layers of newspaper strips dipped in a mixture of PVA glue and water. When dry, paint and decorate the pot to tie in with whatever tree you will be planting. Once dry, add another coating of PVA glue and water mix to act as a protective coating. Plant your seed or pip in some soil, water it and place on a sunny window sill. Decide where you will plant your baby tree when it is big enough. (You may need permission to plant it.)