Make a mobile that demonstrates the danger to wildlife caused by rubbish in rivers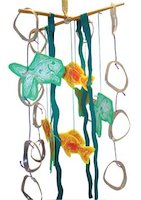 Key Stage 1
Curriculum links: Geog 5a-b. Sc2 5c. D&T 1a-b; 2a, d-e.
What to do: One of the most dangerous items of rubbish for wildlife in our rivers is the plastic six-pack holder that comes on cans of drink. If it is thrown away in one piece, then creatures can become entangled in it and die. Cutting the plastic holder into pieces before you throw it away can easily prevent this. Illustrate this point by making mobiles that can hang in your classroom. Collect some six-pack holders and cut them into individual plastic rings. Carefully punch holes in the top and bottom of the rings and thread a length of cotton through the holes, joining the rings together. You can join as many rings together as you like. When you have made several strings of plastic rings, take two strips of wood and fasten them together in the shape of a cross. Now tie your strings onto the wooden cross in various places to make your mobile.
Cut out, draw or print some images of fish and other river wildlife, and use thread to hang these from your mobile. Finally, cut wavy strips of blue or green crêpe paper and tie these onto the wooden cross among the strings of plastic rings. Now the finished mobiles are ready to hang around your classroom.
Key Stage 2
Curriculum links: Geography 5a-b; Sc2 5a-b; D&T 2a-e.
What to do: River wildlife can become entangled and die in discarded plastic six-pack holders from canned drinks. Discuss the role we play as active citizens in helping to protect our local wildlife. Reuse plastic holders to make mobiles. Cut the holders into individual rings and punch holes in the tops and bottoms. Thread small lengths of cotton through the holes. Join the rings together by knotting the threads between them, creating a chain effect. Make a small wooden cross and add the plastic chains. Hang pictures of fish and other river wildlife from the mobile using lengths of cotton. Add watery-looking strips of paper to finish.