Find out more about St Andrew, and plan some Scottish-themed activities for St Andrew's Day taking place on 30 November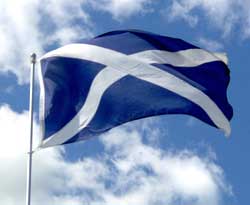 St Andrew's Day is on the 30th November and is celebrated by Scottish people around the world. The flag of St Andrew, the Saltire, is flown. It is a diagonal white cross on a blue background.
So who was St Andrew?
In the Christian faith, St Andrew was one of the 12 disciples of Jesus. He was born in Galilee and, with his brother, Simon Peter, became a fisherman before leaving his nets to follow Jesus. When Jesus was crucified, he continued to spread His word, travelling to many different countries and as far as Russia.
Activities for St Andrew's Day
Why not celebrate St Andrew's Day with your class? Here are our suggestions for some Scottish-themed activities for those who want to join in the fun!
Learn some Scottish country dances and have a ceilidh – you could contact the Royal Scottish Country Dance Society to see if they have a group in your area who might be able to do a demonstration.
Scottish storytelling – invite a storyteller into the school to tell Scottish stories, or research and retell tales about Rob Roy, Robert the Bruce or mythical creatures such as selkies and kelpies.
Read some Robert Burns poems to the class and ask them to try to create their own, using some of the dialect he uses. (Look out for a poster featuring the poem 'Address to Edinburgh' by Robert Burns in the January issue of Literacy Time

PLUS

for Ages 9 to 11. The poster is published to coincide with the 250th anniversary of Burn's birthday on 25th January 1759.)
Have a Scottish feast – decorate the hall with Saltires and tartans and serve traditional foods such as cock a leekie soup, cloutie dumpling and haggis.
Invite a bagpiper into the school to give a demonstration and tell the children about the instrument – maybe they could even have a try!
Start a tartan project – find out all about the history and types of tartan, and the accessories worn with a kilt, such as the sporran and skein dhu. Then ask the children to design their own tartan.
Find out more about the town of St Andrews for a geography project – or develop links with a school in Scotland to allow the children to compare their life, school and locality with other children.
When St Andrew came to Patras, in Greece, the Roman governor ordered that he be crucified for his beliefs. He was put to death but, believing himself to be unworthy of the same death as Jesus, asked that his cross was in a different shape – an X shape, which is why the X features on St Andrew's flag.
If he died in Greece why is he the patron saint of Scotland?
There are two very different stories suggested as to why St Andrew's remains ended up in Scotland. One story says that they were bought to Scotland by Acca, the bishop of Hexham.
The other story tells of a monk called Regulus, or Rule. According to legend, an angel appeared to him in a dream and warned him that the Roman Emperor, Constantine the Great, was planning to take St Andrew's bones to another country. The angel told him to hide an arm bone, a tooth, part of one knee bone and some finger bones and to sail with them north, to the ends of the earth.
Regulus and his companions sailed north for many months, until they were shipwrecked off the coast of Scotland, at a place called Muckross or Kilryment. A Pictish king gave them land on which to build a church, where they buried the saint's remains. The town became a place of pilgrimage for medieval people and was called St Andrews.