History interactive game: World War II
24 November 2008
Add to My Folder
This item has 5 stars
of a maximum 5
Rated 5/5 from 2 ratings (Write a review)
Put your class' investigation skills to the test with the last in our interactive history series. This month, travel back in time to World War II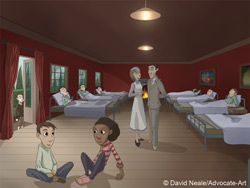 The story
The aim of our last interactive 'History Detectives' game is to encourage children to use their investigation skills to help characters, Joe and Fabia, find the owner of an artefact from World War II. You can decide how to use the game to fit in with your history teaching.
Joe and Fabia are best friends. This summer, they went to stay with Joe's Uncle Frank. He lives in a big house with lots of rooms to explore, including an attic hosting a treasure trove of artefacts from his days as an archaeologist. Strange things happen in the attic. Joe and Fabia realise that when they touch certain artefacts, they are transported back in time and are challenged with a mission to find the artefact's original owner.
How to begin
The interactive game this month is set in Uncle Frank's House in Wales, during World War II. The game uses fact and fiction to recreate a typical scene from the period. To begin, your class need to explore the attic to find the letter that will transport them back in time.
Back in time to World War II
Once the children have explored the attic and found that the letter transports them back to Uncle Frank's house (in Wales) during World War II, they must use the available tools to piece together who it belongs to. Joe's uncle found the letter when he moved into the house. The scene shows the house as it was when it was an auxiliary hospital during the war. It is full of characters – four of them are the potential owner of the letter: an MP, a nurse, a soldier and an evacuee.
Audio – hear my story: Children can click on the audio buttons next to the four main characters to hear their story and help them build a case for who the letter belongs to. They can type any important information into the onscreen notepad. (Printed versions of the character stories are available on Activity sheet, 'Character stories: World War II'.
Clues – The question mark icon can be clicked on for clues based on factual information. The children must read them carefully as they will help to eliminate certain characters. Again, children can add details to the notepad. There is also the option to 'Ask the expert' — Archibald Dig, who will provide them with evidence to help them build a case. Once the children have heard the characters' stories, read the clues and asked the expert, they can start to build a case. They can then choose an answer. If they are wrong, they will be prompted to go back to a certain clue or story to help them answer again. You must read the 'Teachers' notes' and 'How to play' (see interactive resource) before the children play the game to ensure that you know who the owner is and how the other characters are eliminated. The owner of the letter in this month's game is the nurse!