Guest Editor, Mel Campbell, suggests activities for the last National Year of Reading theme 'Write the future'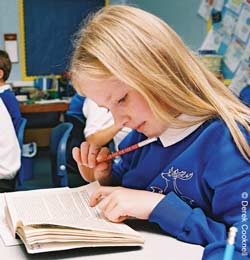 Activities
1. Talk in 'txt'
Is there a place for texting in the classroom? We ban mobile phones from being used in school, but should we ban the art of 'mobile communication'? If there is obviously such a requirement for it in today's society, should we not find ways of incorporating it into the curriculum? The reality is that texting is quickly becoming the most popular form of writing with children and young adults, so perhaps we should think about incorporating it into our teaching.
Challenge children to write 'text speak' messages for each other to decipher, or write a 'text speak' letter to a friend. Alternatively, invite the class to write a book report or blurb, or rewrite their favourite part of the book, using text language.
2. Celebrating writers
Discuss with the children how writing has evolved over the last 500 years. Take a literary journey from Shakespeare through to Charles Dickens, Lewis Carroll, Oscar Wilde and Enid Blyton, and then compare them to modern authors such as JK Rowling, Michael Morpurgo, Judy Blume and Malorie Blackman.
Undertake a 'history of writing' project and focus on one author from each century to explore. Ask: Why are these books important? How has the language changed?
3. Writing detectives
Ask your class questions to get them to think about the value of books – both past and present. Ask: Why is it important to study older literature? What can we learn from it? Is it valuable? If so why? Discuss what the children think people will be reading 500 years from now.
Take it even further by asking them to write a short play or story to show how they think people will communicate in 500 years time.
4. Social networking
Social networking sites give children the opportunity to be imaginative, creative and active users of the internet, while developing their communication and social skills. However, as recent negative media coverage would suggest, we have to question whether these sites are truly safe.
A possible answer to this comes in the form of self-professed 'safe site' Imbee.com Imbee describes itself as 'the first social network for young people', and has been approved and endorsed by both parents and teachers. It gives children the opportunity to become part of the virtual community by undertaking activities such as uploading pictures, making trading cards and creating or joining groups.
Imbee is not just about whiling away the hours chatting to friends. The site also has an educational slant to it. The current 'National Geographic Kids' section gives children the opportunity to learn about how to take care of the Earth. There are also games, videos, craft ideas, recipes and science experiments to explore.
5. Teachers' zone
The site also boasts a fantastic teachers' section, which easily facilitates classroom practice on the internet, enabling the creation of class blogs and online communication through detailed and comprehensive lesson plans. Teachers can also share their successful ideas by uploading their own lesson plans. This holds great promise for encouraging teaching into the technological age, giving both teachers and children the opportunity to be innovative, investigative, confident and creative with ICT. It may also be a fantastic way to interest and enthuse reluctant writers about the written word.