Help celebrate the wonder of winter and explore personification at its best with an enchanting poem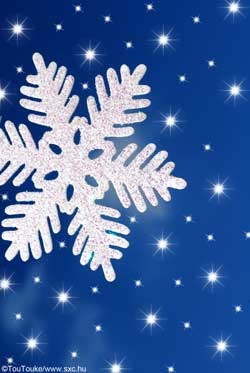 Each season brings its own beauty and delight, but often, one season can begin to merge with another at the beginning or end. Cold days, or the occasional flurry of snow in autumn, are warnings that in the middle of this colourful season, winter is not far away, and is eager to take over.
Explain to the children that the poem 'I am Winter, King of Seasons' is a letter poem, in which seasons are personified. Winter tells Autumn, rather impolitely, that its turn is over, and it is 'Time to go!/ Scram! Vamoose'. Winter then claims that he is 'King of Seasons'.
Activities
1. Best of all seasons
Read the poem together and then ask the children whether they would challenge Winter's grand statement, or would they agree that Winter, with its wonderful world of snow, freezing ponds, twinkling stars and bright lights, is indeed the best of all seasons. Do they think that Autumn, with its beautiful colours and mysterious fog, would believe it had more right to be King? Or perhaps Summer, with its sunshine, and long warm days? Or maybe as the poem suggests, the 'Spring Magician' is more powerful, with its ability to wake the frozen world and defeat winter when it 'scatters snow drops in the lane'?
2. Winter nobility
In the poem, Winter has also personified itself as the 'White Knight', the 'Black Prince' and the 'Ice Lord'. Discuss the roles of these different characters. For example, the White Knight perhaps suggests that he brings the peace and calm we experience when snow has fallen during the night and we wake to a white and muffled world. What is the Ice Lord's ambition? Does he hope to reign as King all year? Ask the children to draw pictures interpreting what these characters would look like, and then mount them onto a suitable background.
3. Artist or joker?
Ask the children to write a non-rhyming list poem based on a different season, beginning with 'I am…' in which each season claims titles of its own. Could Autumn, for example, call itself 'The Artist'? Would Summer choose something like 'The Wizard of Heat', or even 'The Joker', because of its tendency to rain on picnics! Do the children have a better name for Spring than 'Magician'? Perhaps 'Enchantress'? Encourage them to think of other names that suggest leadership, such as 'Duke', 'General' or even 'Superhero', and use a thesaurus to seek alternatives.
4. Dear Winter
Use the poem to model a similar letter poem. For example, in this poem, the Spring Magician has shown that, in spite of all Winter's cold and snow, it can give signs of its approach by sending snow drops. Invite the children to write a letter poem from Spring to Winter, in which they use some of their ideas about personification and develop them to illustrate Spring's main characteristics.
5. Winter festivals
There are many occasions when Winter brings 'the warmth of festivals to share'; Christmas particularly, brings 'the beauty of bright lights' to every town and city. Religions other than Christianity also use lights to recognise special days. The Jewish festival of Hanukkah includes lighting candles. Diwali, in the dark days of October and November, is a Hindu celebration of light, when homes are decorated with small lights, called divas. (See pages 46-47 in the December 08 issue of Junior Ed for more information on winter festivals.)
Encourage the children to discuss their impressions of winter festivals, bright lights and clear skies, brought allegorically in the poem by 'the Black Prince of darker nights'. Ask them to speed write as many words as they can to describe their feelings about such experiences. Use these to create a class word bank which the children can use to develop into an expressive short poem or descriptive prose.