School plays: Ideas for end-of-term productions
24 November 2008
Add to My Folder
This item has 4 stars
of a maximum 5
Rated 4/5 from 21 ratings (Write a review)
Discover some simple, creative and stress-free ideas for school plays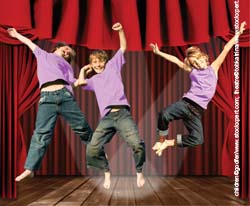 End-of-term productions can be extremely stressful and exhausting. In addition, valuable curriculum time can be wasted in learning new songs and lines that are quickly forgotten and bear no relation to the rest of the curriculum. The thing to do is to think flexibly and creatively. Try to build on topics and existing knowledge, and integrate the children's repertoire of songs and music within a theme or topic that will provide the audience with an enjoyable show. Here are some tried and tested starting points from my experience as a music teacher that you can use as a springboard for your own plays. All of them involve the children in the design, and ancillary staff and parents can also get involved so that the finished production is a real team effort. As each class or group has responsibility for their own section, rehearsals can take place separately until the very last minute when you put the whole thing together. This avoids that awful experience of restless children sitting for hours in the hall waiting for their slot during endless, long rehearsals. They will be genuinely excited to see and hear how it comes together when you finally rehearse the complete production.
Production ideas
1. The four seasons
This works well by allocating one season to different groups who can then decide together what to include. Encourage diversity so that the show is fresh and interesting to the audience. The children will already know songs and poems about the weather so these can be polished to performance level. Make it visually engaging by creating a huge wheel at the back of the stage, painted by groups of children to represent the four seasons. As you move through the show, a child comes on to point an arrow to the relevant section. Topical music, such as that from Vivaldi's Four Seasons will prevent any 'empty moments' for the audience. Slides of events through the school year and/or scenes painted by the children can also be used to good effect as groups leave and enter the stage.
Smaller groups can devise dances. I recall one group of Year 6 girls who choreographed a superb dance to the music 'Here Comes the Rain Again' by the Eurythmics . Musical compositions by groups of children to represent a storm, snowfall, April showers, and so on, will also provide opportunities to work collaboratively.
2. The magic balloon (and other journeys)
This provides a marvellous opportunity for creative writing. Give the children an opening line such as: 'There was once a magic balloon which landed right here in (your school) one day. But it did not stay long – there was (someone) on board and he/she/they had to search for (something) because/in order to…'
Anything goes in this story, so encourage the children to use their imagination. When I used this idea, we had groups doing Peruvian dancing, a rock concert in New York, an underwater scene, flamenco dancing in Andalucia, walking on the Moon, and plenty more. This brings an element of surprise for the audience and makes for colourful visuals. Link music can be composed by the children to represent the balloon taking off, journeying and landing. Once you have the basic story line established, you can integrate songs, dances and poems already known to the children. If you decide to use this idea for Christmas, you can bring the story back to base and sing some carols at the end having completed the adventure.
When I was teaching music in one school, we adapted this idea to become 'Santa's Journey'. In this version, for younger children, the reindeer were all poorly, so Santa had to find alternative transport as he journeyed all over the world delivering his presents. This was very easy to produce and the children already had an extensive repertoire of transport songs. A strong storyline is necessary to carry journey-based productions forward, so consider one of the ancillary staff with a good, expressive voice as narrator. When I taught in Chile, we dressed one of our assistants as an old lady and she sat in a rocking chair with a big book and told the story beautifully. Adults in this role are also better than children at adlibbing, 'prompting' and covering up any little 'blips' in continuity.
3. Snowman's world tour
Another variation on the 'Journey' theme is the snowman who goes off with a couple of children to different countries to see how Christmas is celebrated. This will involve the children in research and extend their knowledge. They could use ideas generated from the "'What does Christmas mean to you?' article. 'We're Walking in the Air' and the other beautiful music from The Snowman animation provides stunning audio as well as continuity. Once again, slides of children's paintings can be shown between 'acts' to keep the audience entertained. If you have a child or group of children who can sing the song, so much the better, but it has to be sung well to carry impact. If you opt for this idea, aim to create the wonder and magic of the original story.
4. This year will be different
This can be adapted for any time of year — Christmas, Easter, end-of-year, and so on. It begins in the staffroom, where frazzled, exhausted teachers are planning the production and are already fed up with the stress of it all. (This familiar scene should be relatively easy to dramatise!) Parents and children love to see teachers on stage! Unfortunately, the teachers have no ideas at all this time, then… enter two (or three) fairies, spacemen, children (whoever you choose), who have the altogether brilliant idea of doing research to find out how teachers in other schools solve the problem. Similar to the previous journey ideas, anything can happen.
When I produced this show in Mexico, continuity was provided by Santa, Rudolph and the Christmas tree fairy who visited children in different countries. As each year group left and entered the stage, relevant music from different countries was played to set the scene (and prevent audience restlessness or talking) and slides of children's artwork representing the countries visited was projected. Finally, they returned with ideas, instruments and music from their travels and these were incorporated within a grand finale of Christmas rock and roll choreographed by Year 6 teachers (now suitably re-invigorated by the experience). By building on previous music and dance work, the whole show came together with a minimum of fuss, and worked as a complete story from the audience's point of view.
5. Pictures at an exhibition
Music by Mussorgsky provides the links and continuity for this production. Each group decides on a famous painting they want to portray, and at each opening scene when the curtains open, the audience sees a tableau of children representing the painting framed on stage (use your parent helpers to create and decorate this). Think of creative ways to display the title and painter's name. Then, as the music plays, the tableau comes to life, other children enter and the painting becomes a whole scenario. This production provides wonderful opportunities to integrate all the arts, and children will learn a great deal about famous paintings from the experience. As it is so flexible, you can adapt it to suit the time of year for your production.
6. Keep it simple
No one denies that shows can be nerve-wracking, but if you keep it simple and utilise existing knowledge, you will keep stress to a minimum for you and for the children. Do make full use of your team — talent spot to discover where everyone's strengths lie. If you are the music coordinator, do not fall in to the trap of trying to do it all by yourself. People like to feel valued and know that their contribution to the production is vital. This includes the children, which is why it is so important to incorporate their ideas. The Junior Entrepreneurs: The school show is a great article to help you plan your school show as a whole-school project. By working in a collaborative way, not only does everyone feel a sense of ownership but they will also learn a great deal from the processes involved – the research, writing, painting, composing, choreographing, and so on. Start with their strengths and let the production evolve.