Guest Editor, Mel Campbell, invites her Year 6 class to review a selection of their favourite books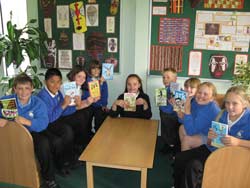 Anna Hibiscus by Atinuke (Walker, £3.99 PB)
Reviewed by Shannon

This story is about when Anna Hibiscus goes on holiday with her mum, dad and her two twin brothers, Double and Trouble. Aside from Anna and her family, there are lots of other really interesting characters in this story. The best part of the story is when Anna goes canoeing with her family and the canoe goes through a town and the markets. If I was her, I'd do that every day. I wouldn't change this story! I would recommend Anna Hibiscus for girls aged eight and nine years old because it has really good adventures.
Abbot Dagger's Academy and the Quest for the Holy Grail by Sam Llewellyn (Puffin, £5.99 PB)
Reviewed by James

I would recommend this book because it is funny and silly. I think children aged nine to 13 would enjoy it. It is fantastic. Abbot Dagger's Academy is a school far away in a place called the Badlands. It is a school for children so bad that no other school wants them or so bright that no other school can manage them. The characters are: Rosseti who is brilliant at drawing, English and talking with animals and uses his talents to get what he wants; Owen who loves maths, card games, chess and anything mechanical, and Onyx who can speak 28 different languages, is brilliant at history and loves to research. This is a great book where the children travel back in time in a pigeon basket.
Hero and the Sinking Ships by Richard Hamilton (Bloomsbury, £5.99 PB)
Reviewed by Arishan

This book is about the Morgan Street Rats looking for a better life. First, they look for a boat to the Tropics, but, it ends up going to Russia! The little rats decide to sink the ship. They jump in the lifeboat and find another ship. Hero, one of the little rats, makes friends with a boy called Jim. Jim teaches Hero loads of human stuff. The boat suddenly blows up. Will the rats ever get to the Tropics?
My favourite part was when Hero learns human stuff. I would have changed it when one of the rats died though. This book is suitable for children aged eight and upwards. I would recommend this great book. It makes you want to read more books by Richard Hamilton.
Fly, Cherokee, Fly by Chris d'Lacey (Orchard,
£5.99 PB)
Reviewed by Lauren:

Darryl discovers a pigeon in the park and takes it home to show his mum and dad. When he shows his mum she looks astonished and tells him to take it back to where he found it. But then his dad arrives and is amazed at what Darryl has in his hands. Darryl wants to keep the pigeon and so does his dad, but his mum says no. But then she changes her mind and they call the pigeon Cherokee.
My favourite part is when Darryl gets to race Cherokee and also when Darryl's mother agrees that he can keep him. There were no parts of the story that I would change or I did not like.
Don't forget to visit the 'Giveaways' section for a chance to win the featured books.
The Geek, the Greek and the Pimpernel by Will Gatti (Orchard, £5.99 PB)
Reviewed by Mollie

The teachers don't notice the bullies at Staleways School bullying innocent people and shockingly the headteacher, Sir Pent, has his own devious plans. But, the mysterious Pimpernel is giving these devilish people a taste of their own medicine. With all these strange events occurring, Michael, who is Greek, and a geek called Minou, decide to join forces to determine what's been happening. My favourite part is when Michael and Minou get given detention. The Pimpernel, disguised as a gasman, gets them out of detention by saying there is a gas leak. The bit I disliked was when Michael breaks his own rules and becomes a different person. I didn't like this as there was no explanation as to why he suddenly changed. This book is a thrilling modern mystery that keeps you on the edge of your seat.
Clementine by Sara Pennypacker (Hodder, £6.99 HB)
Reviewed by Rachel

Clementine is a book about a child who is hard to handle called Clementine. Clementine is a very funny and naughty character for younger children. My favourite part was when Clementine made herself look like her best friend. I did not like the bits where she calls her brother a vegetable because it isn't funny or exciting. This book is suitable for children aged seven to nine. Younger children, in particular, would find this book exciting. It would be good for both boys and girls. I think this is a brilliant and funny book.
The last free cat by Jon Blake (Hodder, £5.99 PB)
Reviewed by Liane

This story is about a girl called Jade who finds a cat called Feela. When her mum dies, Jade finds a friend called Kris and he decides that they should go to Ireland but they have difficulty getting there. My favourite part will have to be Jade and Kris going to Ireland because it was packed full of fun and adventure. If I could change anything in the story it would be Jade's mum dying – it definitely would be fun if she were in the adventure, too. This book is suitable for nine-to-12-year old boys and girls because it has adventures (boys would like) and animals (girls would like). I'd definitely recommend this book.
Grk Smells a Rat! by Joshua Doder (Andersen, £4.99 PB)
Reviewed by Jade

This book is about a boy named Tim and his dog called Grk. Tim, along with his mum and dad, go to support his adoptive sister, Natascha's, brother, Max, who is taking part in a tennis championship in India. Tim meets Krishnan and other children who are forced to work in a factory making counterfeit CDs, DVDs and books. Krishnan asks for Tim's help, so Tim and Grk set off on their Indian adventure. My favourite part is when Tim eats all the chocolate-covered fruit, mmm. I would not change anything in this story.
Soccer Squad: Missing by Bali Rai (Red Fox, £4.99 PB)
Reviewed by Billy

A letter comes in the post saying there is a new football club called Rusthon Reds about to open for children. So Jason, Dal and Chris all decide to join up. On the day of their next match, they realise they will be playing another new team that makes them feel a lot happier as they haven't had much practice. The Reds score first, then an equaliser is scored, then the Reds miss a penalty and the whistle is blown. The manager says that for a special treat they can go paintballing. But will the Reds ever win a match? My favourite part is when they get to go paintballing because it made them happy and excited.