To celebrate the National Year of Reading, poet Kevin McCann has been on the road reading his poems in some very unusual places – from a car factory canteen and a day centre to a Knowsley safari park!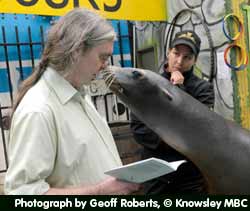 Bifo the Sea-lion greets Kevin McCann at Knowsley Safari Park.
Kevin McCann is a full-time poet and writer and regular contributor to Literacy Time PLUS. He has been given many wide-ranging commissions from the Editor, Helen Watts, but has never presented his work to quite such a wide-ranging audience as he did recently for a National Year of Reading event.
Knowsley Library Service and its partners wanted to celebrate the National Year of Reading by promoting reading across the community. They set up a project called Around Knowsley in Eighty Reads and invited six local poets, including Kevin, to get involved.
And so it was that, on a wet, cold and windy autumn morning, Kevin found himself hot-footing it around the borough, sharing his poetry with unsuspecting members of the public. Despite the weather, spirits were soaring, as he and his fellow poets visited schools, children's centres, health centres, supermarkets, the Safeguarding Board, bistros, the Bradbury Fields Centre for the Visually Impaired, local industry, dentists, and even Knowsley Safari Park … and the list goes on.
Kevin McCann: "I visited an assortment of locations: 2 primary schools, a car factory canteen, a secondary school, a day centre for the visually impaired and even Knowsley Safari Park where I met a sealion who greeted me with a nose-rub!"
Eighty venues were visited and more than 2,500 people enjoyed a poetic interval in their day. Here is a selection of some of the wonderful feedback received:
"A lovely interlude to a dreary day."
"You cheered us all up."
"Can you come back and do it again tomorrow?"
"A moment of serenity amongst the madness."
"It is my first time ever to be read a poem."
And one particularly touching comment came from someone who had recently been bereaved: "I can't tell you how much I enjoyed that – it reminds me of the good times."