and Pamela Dori-Bishop — Little Dragons Nature Nursery
Eileen Colts-Tegg and Pamela Dori-Bishop offer ideas for how to improve your setting's carbon footprint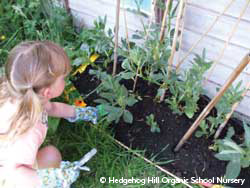 Do your children enjoy the occasional organic smoothie, or do they help their families to grow their own organic strawberries? By the time a child is five years old, they will have learned over 70 per cent of all they will ever learn. So, now is the time to instill a natural, green, healthy lifestyle that will stay with them forever.
Think organic
In the home, nursery or childminding environment, the most obvious way to start going green is by providing as many organic foods and drinks as possible. You can also promote healthy minds and healthy bodies, with an emphasis on daily exercise, by adding more interesting movements through, yoga, dance and drama.
Using environmentally-friendly cleaning products and toiletries wherever possible is important, as the younger children often taste the environment around them in order to learn more about how the world works. However, you may soon find that the concept of 'organic' takes on a life of its own – spreading into all areas of the nursery and home.
Remember, it is not so much about what you buy – as about what you don't buy. You often cannot tell that a nursery is organic just by looking at it. The furnishings and equipment often look the same. Organic is invisible, but so are the dangerous chemicals and toxins that can infiltrate your child's world.
Natural materials
When we set up our organic nurseries – Hedgehog Hill Organic Nursery School and Little Dragons – we discovered that we could buy furniture from sustainable wood sources, purchase organic cot mattresses and bedding, use low-energy light bulbs, utilise a water butt and composter. We contacted our local farms and producers – especially organic ones – to source home-grown food that would not only save money in buying direct, but improve our carbon footprint and encourage economic growth in the local community. Perhaps the 'Buy British' slogan should be changed to 'Buy Local'.
Organic curriculum
The most interesting area to eco-improve is the curriculum. Hedgehog Hill Organic Nursery School and Little Dragons offer organic cookery and organic gardening lessons, yoga, dance, early years drama, and music and movement, which are all taught by qualified professionals. We have set up nursery recycling centres as well as pre-school and toddler recycling centres, where the children do their own recycling under supervision. They love sorting through every manner of cleaned garbage (often preferring to take it home rather than leave it in its designated bin). We have added 'Green issues and topics' into the annual curriculum, and, as children are such great copycats, all our staff teach through example by turning taps and lights off regularly.
Staff commitment
Getting staff involved is vital to finding the most creative ways to improve your carbon footprint, as well as safeguard the children's health by reducing their exposure to potentially harmful chemicals at an early age. We often put it out to a staff meeting to see how many great green ideas they come back with. It also gives the staff a sense of 'ownership', knowing that they have made a difference to the health and well-being of the children they care for.
Eileen Colts-Tegg and Pamela Dori-Bishop were recently dubbed the Trinny and Susannah of the nursery world, because of their commitment to promoting green makeovers for nurseries and helping other nurseries to eco-improve their ethos and surroundings.
Once you have made the commitment to make your home, nursery or childminding environment greener, you can always find areas to improve upon. And you do not have to do it all at once, as the issues of increased costs may put people off from taking the green plunge. Small, manageable steps is the key – make a few improvements every month, and see where you are in a year's time.