Eileen and John Colts-Tegg launched Organic Schools Limited in 2005 and opened Hedgehog Hill Organic Nursery School in Northamptonshire. Here Eileen shares her passion for going green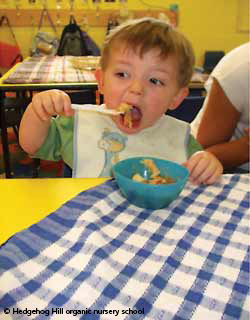 Q What inspired you to set up an organic nursery?
My husband John and I both came from a background in childcare. Although John is English, he once owned the largest Chicago-area nursery, which catered for more than 200 children. In the 1980s I had the only nursery in Cairo, Egypt. We both saw a need for nurseries in our Northamptonshire countryside area, but felt that we wanted to do it slightly different. So, we opened an organic nursery dedicated to organic concepts in food and environmentally-friendly activities, and this ethos soon expanded into the curriculum as well.
Q Why is it so important to serve organic food and drink?
We believe that all children deserve the best possible start in life – including a healthy diet. Removing as many chemicals, preservatives, colourings, E-numbers and toxins from their diet and environment from birth, seems to be the most logical way to help protect children's health as they grow.
Q In what other ways is your nursery school 'green'?
Hedgehog Hill Organic Nursery School uses eco-friendly and non-toxic cleaning materials as much as is allowed by current health and safety regulations. We also use organic bedding and mattresses and try to source wooden toys and furnishings from sustainable sources. We have an in-house recycling centre for the staff. The preschool have their own centre, which the children love sorting through. We teach organic cooking and provide organic gardening lessons. We have a focus on movement and activity with indoor and outdoor sports and games, as well as yoga, music, dance and drama. We are lucky to have an indoor gymnasium (1,200 square foot) where tricycles can be ridden even on rainy days.
Q What is an 'organic curriculum'?
Our parent company, Organic Schools Limited, says that it is about providing a holistic and wholesome program of activities. We have hired qualified professionals to come in and work with the children at Hedgehog Hill Organic Nursery School, including musical instruction, yoga, introduction to French through singing and nursery rhymes, and now early years drama – which is a big hit with the children. Early years drama is very much about building confidence and the ability to speak and sing as part of a group, and individually. The children work with songs and poems as well as play-acting within contexts that they can relate to, such as a teddy bears' picnic or going to the beach.
Hedgehog Hill also dedicates two months a year to green issues in our curriculum. This year it is 'Let's save the planet – a little every day!', where the children learn and practise the basics of turning taps and lights off, how to reuse and recycle just about everything – and even encourage their parents to walk more, rather than drive.
Q How have parents responded to your organic nursery?
The parents, children and staff love being part of the Hedgehog Hill Organic Nursery School 'family', not only because of its healthy and eco-friendly environment, but also that we are a small, family-run and very happy nursery. Our staff love the children and that is instantly evident to everyone. I think a happy and loving environment is even more important than an environmentally-healthy one.
Q Do you think this trend in 'all things green' will continue or is it just a fad?
I think nurseries will become more healthy and environmentally aware as the years go by. Some will be due to dedication to the cause, and others just to keep up and be able to compete with their greener counterparts. I think Jamie Oliver did us all a great favour when he brought the country's attention to the quality of food in schools at a time when the whole world was going greener. John and I were fortunate to be opening Hedgehog Hill Organic Nursery School the month before his television programme aired, so we immediately became part of the growing global green community here in the UK. We think it is challenging and fun to provide children with the most varied and interesting pre-school experience possible. Perhaps this is the wave of things to come, and in ten or twenty years' time, all children's day nurseries and schools will take a greener, more organic and holistic approach to childcare and learning.