Pamela Dori-Bishop reveals all about her Forest school nature nursery, Little Dragons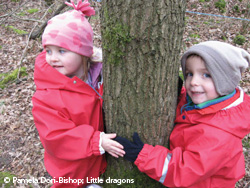 Little Dragons is a small, 28-place nursery set in the grounds of a village school in the heart of the Northamptonshire countryside. Opened in November 2006, the small, cosy, home-from-home setting is calm, relaxed, natural and organic. It is based in a modular building with natural flooring, lots of untreated timber and a huge amount of light flooding in.
There are no bright colours – everything is muted and calm with as many natural resources as possible. Surrounding the nursery is a vast expanse of grass, some mature trees and a child-size organic herb, fruit and vegetable garden. The food, which is cooked fresh every day, is mostly organic and bought from local producers, farms and farm shops. They compost, recycle and save on energy and water whenever possible.
Forest School settings
In the 1980s, it became apparent in Denmark that there was a serious lack of appropriate buildings to provide much-needed nursery places. There was, however, an abundance of forest. Scandinavia, where outdoor living is an integral part of society, soon realised that 'schools in the forest', where young children learn through play and interaction with the environment, seem to work.
A year-long study was commissioned to compare seven-year-olds entering school from Forest School settings, and those coming from urban kindergartens.
The results were outstanding. They showed that the Forest School children were advanced in every area. Their social skills were stronger with better developed emotional literacy and the ability to communicate and work as part of a group; they had better concentration and focus and took greater pride in their achievements; they had better physical co-ordination, both gross and fine motor skills were more advanced; and they had, on average, 25 per cent fewer days off sick.
These results showed that there was a wider range of opportunities for play in the natural setting, and that the activities were healthier and of a better quality.
The Forest School children were observed playing for longer sustained periods with fewer interruptions and less aggression, while the city children were often interrupted – by each other, adults, nursery routines – and so they became irritable, stress levels rose and the ability to concentrate fell. The less stressful environment of the forest allowed for a more rounded development, and these children arrived at school with a greater degree of confidence in their abilities and higher self-esteem.
Due to the outcome of the study, other Scandinavian and European countries adopted the Forest School approach, and in the 1990s a group of early years professionals from Bridgewater College in Somerset visited Denmark to see the beneficial effect of the Forest School ethos.
Since then Forest School has grown steadily in the UK, with several regional programs providing training for individuals to become qualified Forest School Leaders, as well as organising and running sessions for schools and nurseries to attend.
If you go down to the woods…
So how did Little Dragons become a part of the Forest School project? Well, it began with a taster session – a whole day in the woods where we were introduced to den building, climbing trees, looking for animal tracks and homes, making journey sticks and cooking over a camp fire – it was wonderful!
Following that a Forest School Leader visited the nursery and talked to the children, parents and staff about the whole ethos. They explained what it was all about, what would happen, where, when and why. She brought with her the cosy waterproofs that the children would wear, she introduced them to woodland creatures with puppets and showed them the objects that she had collected from the forest that morning.
The ratios were fantastic and the adults were able to set up activities that would provide small achievable steps for the children. The aim is to build the children's confidence constantly and they develop self-esteem. The adults are not there to lead or direct the learning, but to observe and scaffold it.
Over the six weekly sessions, the three-and four-year-olds blossomed. They learned to assess and take risks, they worked as a team, they made decisions and communicated better than ever before, they faced challenges and worked things out for themselves, and more importantly, they grew!
Leader of the pack
I am now in the process of becoming a Forest School Leader. The training takes approximately nine months and was funded in part by the Lottery. Once qualified, I will be able to lead the nursery at the woodland site. In the fullness of time, we would like to lease a piece of woodland close to the nursery, and luckily for us, there are farmers and landowners willing to do this for a modest sum.