Cooking is on the ascendancy in schools. If you're worried about your culinary skills, it's time to join a free training class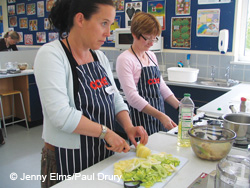 Cooking provides unique opportunities to consolidate learning from literacy, numeracy and other areas of the curriculum. Food in Schools Primary Training is a free continuing professional development (CPD) scheme, available across England. It trains primary teachers in how to provide practical cookery lessons in school and how to teach supporting information on food and nutrition to their children. It forms part of the national Healthy Schools programme, funded by the DCSF, and is designed to help schools meet two of the criteria for the Healthy Schools standard.The key aims are to:
increase teachers' confidence and competence in teaching about food and nutrition
increase children' experience of working with food
increase children' knowledge of diet, nutrition, healthy eating, food chain principles, food hygiene and safety
support the Healthy Eating core theme of the Healthy Schools programme
help raise the standards of achievement in food education
develop a supportive network between schools concerning food issues.
The workshops
Since Food in Schools first began in 2002, 3,000 primary teachers have been trained through the scheme, reaching over 75,000 primary school children to date. Two-day practical workshops are provided for groups of up to 15 primary teachers by one of 330 specially trained and accredited secondary food technology teachers. Attendees are usually D&T coordinators or headteachers, who then ensure that the programme is developed within their individual primary schools.
Areas on which the workshops focus include the QCA units Eat more fruits and vegetables, Sandwich snacks, Bread, and Biscuits (see 'A typical workshop' on page 20). Those attending the workshop are also able to review food education and policies in their own schools. By the end of the two days – which may run consecutively, as two separate days or as four 'twilight' sessions – primary teachers will have gained the confidence and skills to teach the QCA units of work without fear! They will also receive a certificate and become 'accredited primary teachers'.
A typical workshop
So what can you expect if you attend Food in Schools Primary Training? Well, a typical two-day workshop begins with your trainer introducing you to the overall aims of the Food in Schools scheme. They will highlight its links with the Healthy Schools Programme and provide an overview of the QCA scheme of work. This will then be followed over the course of the workshop by a series of practical sessions, based around four of the most popular QCA food units, usually:
Day 1
Eat more fruit and vegetables (Unit 1C):
Recipes may include fruit salad, fruit and/or vegetable kebabs, fruit smoothies, salads and dressings, crudités and dips, stir fry, soups, and roasted vegetables.
Sandwich snacks (Unit 3B):
These might be pin-wheel sandwiches, spring rolls, baked samosas or sushi.
Day 2
Bread (Unit 5B):
Items produced from bread dough might include pizza, calzone, flavoured bread/rolls, pin-wheels, focaccia bread or Chelsea buns.
Biscuits (Unit 5D):
Recipes may include flapjacks, shortbread, ginger snaps, sweet and savoury muffins, cookies, scones, cheese/herb biscuits, oatmeal biscuits.
Learning objectives
During each practical session, the learning objectives and outcomes for each unit will be explored. These differ slightly with each unit, but core objectives include the ability to identify and evaluate different types of foods, design and plan their own products, prepare them, then evaluate the end product against the original design criteria. To help the children do this you will learn:
to use a variety of simple tools and equipment safely and effectively;
to use appropriate sensory, food and cooking vocabulary;
basic food-handling processes and practices;
to demonstrate hygienic practices;
to follow instructions, conduct fair tests and weigh and measure accurately;
to plan the order of work before starting;
that the quality of a product will depend on skill, accuracy and care;
to follow instructions, to conduct fair tests, and weigh and measure accurately;
to mix, knead, shape, divide, grease, glaze and bake;
to cut using the 'bridge hold' and 'claw grip';
to spread, cut, mix, slice, chop and grate, cream, rub in and melt together, with practical techniques for making, flavouring, shaping and finishing products.
In teaching these skills to the children, you will enable them to:
explore and appreciate foods from different cultures;
learn about physical and chemical changes in food;
plan, design and evaluate their product;
generate ideas through planning;
evaluate ideas according to the specification and any other constraints, such as cost;
draw up a specification for their design;
select and use appropriate ingredients and equipment to achieve the shapes and sensory properties required for their product;
understand that the choice of and quantities of ingredients will affect the final product;
plan the main stages and processes of making;
apply what they have learned through product evaluation and focused practical tasks (FPTs) in their designing and making.
Workshop information
The Design and Technology Association would like to invite even more primary teachers in England to take part in these free practical training sessions. Training is available free to all primary schools in England. The practical workshops are run on a local basis by accredited trainers. Usually the workshops are based in secondary schools and run for the equivalent of two days. For further information and to register for training email foodinschools@data.org.uk. You will then be contacted by the Food in Schools trainer who is located nearest to you and will be invited onto the next available local training course.
The Food in Schools Primary Training programme is funded by the DCSF and managed by the Design and Technology Association, the national membership subject association for all design and technology educators (www.data.org.uk). Visit www.foodinschools.org.uk
What about health and safety?
Of course, this is paramount in the mind of all teachers. Working with food brings challenges, but there are simple measures that can be put into place to ensure safety and hygiene. During the training, teachers gain essential practical knowledge on how to:
Set up clear guidelines in school – simple rules that all adults understand. These include rules on hygiene, use of equipment including the cooker, and the storage of food and equipment.
Always keep food equipment separate from other classroom equipment and make sure it's safely stored, especially any sharp knives. Sometimes it helps to keep food equipment colour coded so it's easy to spot.
Keep aprons used for food preparation separate – they're not to be used for painting! It's important to have adult-sized aprons for adult helpers to wear, too.
Make a 'Take care – hot!' sign that can be placed on the cooker after use.
Use antibacterial sprays to make work surfaces safe to use – always check the safety information on the spray packaging.
Do a risk assessment before cooking with children. Refer to your Local Authority guidelines.
Ensure that parents are informed when cooking and tasting activities will be taking place.
How do I teach the skills and techniques?
The learning objectives for the activity will identify the skills and techniques that the children need to learn. The adult working with the children can demonstrate safe and effective techniques, such as how to safely cut and chop. Correct tools are important to help the children achieve a good outcome. Gather resources, such as videos and activity sheets, to help with skills and techniques, and have printed copies available for children to look at when cooking (see www.foodafactoflife.org.uk). Teach the children the correct way to handle knives – a blunt knife is often more dangerous than a sharp one. Finally, try to avoid adults 'taking over' from children; it doesn't matter if the result isn't perfect!