Allison Lee offers advice on claiming free milk; managing a parent who breaches the contract; and suggests some fun activities to learn about the environment
Expert advice
Claiming free milk
All registered childminders can claim for the cost of one-third (189ml) of a pint of milk per day for each pre-school child they look after for two or more hours daily.
You can claim the equivalent of formula milk for babies under 12 months of age.
'Milk' means heat-treated (pasteurised) liquid cow's milk, including whole and semi-skimmed. It does not include flavoured or coloured milk, skimmed, soya, unpasteurised or goats' milk.
To make a claim, write to the Nursery Milk Reimbursement Unit (NMRU), PO Box 504, Leicester, LE94 0AE. Retain any receipts until after each claim has been paid as proof of purchase.
Q&A
I have a child on my books who I am contracted to collect from school three days per week, however, the parent has started to telephone me at very short notice to ask if I can collect her child on the other days. After explaining that I do not have a vacancy, she stopped telephoning, but told her child to meet me at the end of the day anyway. I will be over my registered numbers if I care for the child, but risk putting her in danger if I leave her stranded at school. What should I do?
You need to have a serious talk with this parent. Explain the nature of registration and let her know that her actions are both unfair to you and to her child. If you do have a vacancy for the whole week, then offer this at the going rate, explaining that by paying for five days per week, she has a choice of the days she uses. If you do not have a vacancy every day, make it clear that you will not collect the child again unless on a contracted day.
The next time you are faced with this dilemma, take the child back into school and inform a member of staff that you are not responsible for her on this particular day. This way you can be sure the child is safe and, hopefully, when the school contacts the parent, it will act as a suitable deterrent for the future.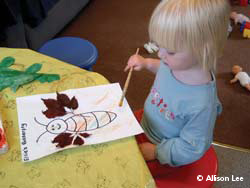 Leaf butterflies
Make leaf pictures
Creative Development
What you need
Selection of leaves in various colours and shapes; white paper; marker pens; crayons.
What to do
With parental permission, take the children on a nature walk to explore the environment and collect some leaves.
Back at the setting, draw the outline of a butterfly's body for each child. Encourage the children to colour the body, then stick leaves on to represent the butterfly's wings.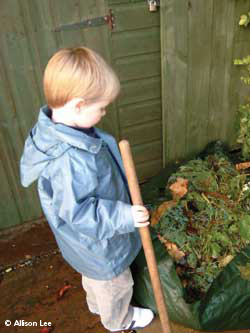 In the garden
Make a compost heap
Knowledge and Understanding of the World
What you need
Small garden broom; grass cuttings; leaves; twigs; soil; water.
What to do
Invite the children to sweep the garden waste into separate piles of grass cuttings, leaves and twigs.
Allison Lee has six copies of her new book Childminder's Guide to Child Development, priced £14.99, to give away! To enter, send your name and address on a postcard, quoting 'Childminder's Guide' to Nursery Education PLUS, Villiers House, Clarendon Avenue, Leamington Spa CV32 5PR or enter online at Nursery Education PLUS
Draw will take place on 2 February 2009.
Pile the waste into a heap, adding one part grass cuttings to two parts of leaves and twigs. Mix in one inch of soil. Add water to moisten the pile. Turn the pile every week to allow the air to circulate and keep the pile moist by regularly adding water. The compost will be ready for use between approximately one to six months, depending on how often the pile is turned and the amount of moisture added.