Over the last 12 years, Antony Lishak has led creative writing workshops in well over 1,500 schools. He has met hundreds of teachers who yearn to find ways of motivating children to want to write. Now he believes he has found one solution. Find out more…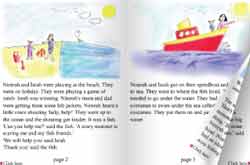 Ever heard the saying 'there's at least one good book inside everybody'? Well it could be true, but only if they released a chocolate version of Great Expectations!
It's one of the hazards of visiting 150 schools a year: the parent who sheepishly hangs around after a book-signing session, nervously clutching their life's work to their chest. And then the dreaded question, 'I've written this book, would you mind telling me what you think?' If only I could – but I'm far too polite…
Please don't misunderstand me – I passionately believe that we all need to nuture our inner authors. Striving to find your voice on paper is a positively empowering thing to do. There's no better way of making sense of the world about you and to unravel the mysteries of the worlds within.
'You've got to be joking!'
About three years ago, as I was packing away my books, I was approached by one such parent.
"One child printed out a book from the site, laminated the cover, stapled it together and went to find the author in Year 5 to personally sign it for her!"
"Could you spare a few moments please?"
Instantly I felt a sense of foreboding, but I managed a smile.
"I wonder if you would mind looking at this?"
A computer? The man was holding a laptop! This was a first. It's all very well browsing the first paragraph of a manuscript while offering the usual words of advice, encouragement and caution, but to scroll through a Word document! You've got to be joking…
"I'd love to, but the M25 gets so congested, and…"
"My daughter has written a book."
I quickly swallowed the rest of my excuse. It's right that adults are made aware of how difficult it is to get work published, but it's far more important to ensure a child's dream of seeing their name on the cover of a real book remains alive for as long as possible. And besides, unless I was very much mistaken, the little author in question was the girl standing gingerly behind the man with the laptop. I recognised her as one of the children who had asked a particularly pertinent question earlier on.
"It won't take long. Here… look!"
I looked at the screen and everything changed.
"I run a software development company and some of my guys have made this out of one of Nimrah's books. What do you think?" asked the man.
I was speechless (a rare experience for me). Before my eyes was a real page-turning book with Nimrah's words and pictures beautifully displayed on the moving virtual-paper.
The man enquired, "If we could create a website that would enable any child to make books like this, do you think there would be a demand?"
Special reader discount
Children's Creative is a subscription website designed to both enthuse the reluctant writer and inspire the more able. With its innovative page-turning technology and simple-to-use interface, it allows children of all ages and abilities to experience the thrill of being a published author.
Subscription to the Children's Creative website normally costs £3 per child per year for the first 200 children and £1 for every additional child, but Literacy Time PLUS readers can get a special discount of 50% off the subscription price. All you need to do is visit www.childrenscreative.com/scholasticoffer.
The timing was incredible. I had actually developed a very simple self-publishing website and knew how children reacted to seeing their words posted on the web as plain flat text. I could only imagine how motivated they'd be if they could make amazing books like this.
Two hours later, I didn't care how much of a car park the M25 had become: I'd agreed to help the man develop the website that was to become Children's Creative, and neither of our lives would be the same again.
Educational phenomenon
www.childrenscreative.com is now used in schools up and down the country and is accessed by thousands of children who are able to make books at school and at home. Teachers tell me that it has boosted the confidence of their reluctant writers as well as fired the enthusiasm of their more competent children. There is no other product like this on the market: schools that join up are part of a new educational phenomenon. A bold claim, admittedly, but listen to these stories teachers have told me…
Children's Creative
is a powerful motivational classroom resource that enables children to experience the thrill of becoming real authors by creating beautiful on-line page-turning books;
puts children at the centre of the learning process by providing a positive experience, engendering a real sense of success and achievement – a genuine incentive to want to write;
displays books in a realistic virtual school library;
is intuitive and easy to use;
encourages writing across the curriculum;
allows teachers to create, store and share their own impressive teaching materials to access in class;
unleashes the full educational potential of the internet – taking learning beyond the school gates.
"We project the Childrens Creative Library onto the wall of our real library, so that children can take paper books from the wooden shelves and Childrens Creative books from the website's virtual bookshelves. One child printed out a book from the site, laminated the cover, stapled it together and went to find the author in Year 5 to personally sign it for her!"
"We took our Year 6s on a residential week away to The Isle of Wight. I took my laptop with me and uploaded photos of the kids in action in a page-turning Childrens Creative book. Each night the parents logged onto the site and read about their childrens' exploits and saw what they were getting up to. When we got back I was greeted by a crowd of enthusiastic, grateful parents as I got off the coach."
"I have a reception class. The website is on my whiteboard all morning and we continually upload images of what we're doing and type up the comments the children make. Before lunch we all gather on the carpet to share the Class Childrens Creative book we've all made – it's really easy. The children love the turning pages and the parents love accessing it at home in our class library. There are quite a few books there now…"
Writing outside the classroom
The thing that really appeals to me is the way in which it encourages children to write outside the classroom. Anything that motivates children to want to make books at home must be doing something right! And who knows, maybe those budding-author parents will borrow their children's logins to make their dreams of being a published writer come true as well…