Design a 'Bag for Life' in a bid to help rid the environment of too many plastic bags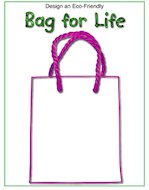 Key Stages 1 & 2
Key Stage 1 curriculum links: PSHE 1a & 2g, Art & design 2c & 5a-b. En3 1e; 2c; 7a & 8a. Sc3.
Key Stage 2 curriculum Links: PSHE 1a, 2a & 2j, Art & Design 2c & 5a-b, En3 1c-d, 6a & 9c
What to do: Talk to the children about the danger to wildlife posed by plastic bags. Many sea creatures are killed because of plastic bags left behind by people visiting the seaside and not taking their rubbish home with them or disposing of it properly. Encourage the children to think about alternative materials to make a bag from rather than disposable plastic bags that are often used once and then thrown away.
Some supermarkets now sell 'Bags for Life', which are made of canvas or other materials, and are designed to be used over and over again when shopping. Use Activity sheet 'Design a Bag for Life' and ask the children to create colourful, fun designs that would be suitable to go on a Bag for Life. The more attractive they look, the more people will want to use them. Send the children's designs to a local store or supermarket with a letter composed by the children that includes all the reasons why they don't think plastic bags should be used any more.