Produce a textured piece of artwork that highlights the value of trees in our cities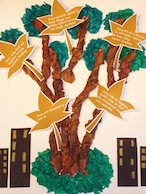 Key Stages 1 & 2
Key Stage 1 curriculum links: Sc2 4a & 5b-c. Geography 5a-b. Art & design 2c & 4a-b.
Key Stage 2 curriculum links: Sc2 1a, 4b, 5a; Geography 1a, 1d, 5a; Art & Design 2c, 4a-b.
What to do: Talk to the children about the kinds of trees that grow in cities – you could investigate those growing in a city close to your school. They are not only a beautiful part of the landscape, they also carry out vital roles in maintaining the well-being of the people who live in those cities. Trees provide shade to keep cities cooler in the summer and as a barrier against cold winds to keep cities warmer in the winter. They help to disguise noisy traffic sounds and bind soil together with their roots to prevent flooding. However, trees that grow in cities that suffer pollution have a much shorter lifespan than they should.
Highlight the value of city trees by making an annotated, textured city tree. Scrunch sheets of newspaper into long ropes. Before sticking it down to form a picture, paint the ropes of newspaper with brown paint using a small brush that can reach into all the nooks and crannies! Once painted, glue/stick the ropes onto a large sheet of paper to form the trunk and branches of the tree. Then scrunch small pieces of green tissue paper and stick them down around the base of the tree to create grass, and around the tops of the branches for the leaves. Stick the scrunched up tissue pieces close together to create a full, textured effect. Next, cut out small rectangles of black paper and stick them around the base of the tree to convey city buildings. Use a gold pen to draw small rectangles on the black 'buildings' to look like windows. Finally, cut out some leaf shapes and on each one ask the children to write a different fact explaining why trees are important in cities.