Make a plastic milk carton bird feeder to help feed local birds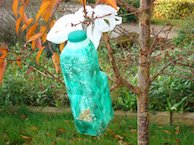 Key Stages 1 & 2
Key Stage 1 curriculum links: Sc2 1c; 4b & 5a-c. D&T 2a & 2c-f.
Key Stage 2 curriculum links: Sc2 4b-c, 5a-c; D&T 1a, 2a, 2d-e.
What to do: Discuss the birds local to your area. Talk to the children about the danger to birds caused by more and more trees being cut down. When trees are destroyed, birds find themselves homeless and hungry. You can help your local birds by making a bird feeder that you can hang in the school grounds. Cut a hole, big enough to let a small bird enter, in the side of a clean, empty milk bottle opposite the handle. Decorate the outside of the bottle and tie a piece of string or strong ribbon to the handle.
To make the perfect meal for a hungry bird, melt 250g of solid fat, such as lard or dripping, and mix it with three mugs of bird seed. Spoon the mixture through the hole into the bottom of the bottle and leave it to harden. Hang your bird feeder from the branch of a tree or another suitable place (make sure that the front hangs forward slightly to keep the rain and large birds out. Watch out for squirrels too!).