Literacy/Storytelling: The sign of a good story
19 December 2008
Add to My Folder
Discover how sign language can enhance storytelling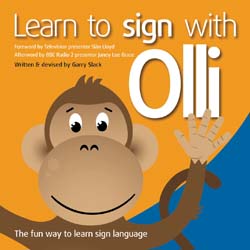 Traditionally, storytime in the classroom has clearly defined roles. The storyteller reads aloud from the book and the children listen passively to the tale. But, imagine if there was a way to create a storytime session that combined elements from another language, not a spoken language, but one that used the hands, body and facial expressions to add interest, emotion and expression to the story; a story that changed children from being passive listeners to active participants.
Using sign language to sign the keywords in a story can transform an ordinary story session into an exciting, interactive experience that stimulates children's interest in both the story and the signs used. It can also raise their awareness in alternative forms of communication. National Storytelling Week, which takes place from 31 January to 7 February, provides an ideal opportunity to use sign language during storytelling.
Inclusive storytelling
Don't worry if you are a complete novice to sign language, it is easy to select a few keywords from your chosen text and then research the corresponding signs using books or websites that specialise in British Sign Language. By using sign language within your storytime, you will not only be introducing the children to a valuable second language, but also making the session much more inclusive for any children who may be deaf, hearing impaired or who may not use English as their first language.
Online extra!
All readers can access the Interactive resource 'Learn to sign with Olli' – an interactive version of the story 'Ollie and the bouncy bed' taken from Learn to sign with Olli. It includes instructions and photographs of all the signs in the story, as well as the finger-spelling alphabet.
Boosting learning skills
As sign language is a visual rather than spoken language, many children find it easy to learn, and are able to quickly acquire quite a large vocabulary of signs. Signing also helps children to improve their memory, concentration and fine motor skills, requiring them to focus on how the signs are formed and then use their hands to reproduce the signs for themselves.
Learning just a few signs can often stimulate an interest to learn more about sign language and how it is used within the deaf community. This can help to encourage discussion about the different ways in which people communicate.
Developing non-verbal communication
Good storytelling, like acting, is about putting on a performance that captivates the listener and makes them feel a part of the action. The same is true of sign language. If the signer simply produces the signs without any emotion, then they fail to express the feeling and meaning behind them. Sign language can help children to build upon the gestures, body language and facial expressions used in day-to-day communications.
Introducing signs to a story will help children to think in pictures and movement rather than words. It can also help children who may have difficulty in articulating things verbally to put across the mood and atmosphere of a story.
Signs in stories
The Learn to sign with Olli books teach sign language in an easy and fun way by featuring the character of Olli, a monkey who prefers to communicate by using his hands rather than his voice. The signs featured in the books are all sourced directly from British Sign Language. Learn to sign with Olli offers an original approach to learning sign language as it doesn't just rely on photographs and descriptions of the signs. Instead, the signs used in the book have been woven into a series of stories, with text appearing in a different colour when corresponding with a sign already learned. The characters of Olli, his family and friends are used throughout the book to help teachers and children remember the signs.