This fantasy underwater story stars a little octopus called Orlando who is always stuck in the Seabed Café kitchen, washing up – but we discover that Orlando has hidden talents. This enjoyable story will suit fluent Level 2 readers in guided reading sessions or is fun to share with less able readers.
These teachers' notes accompany the PRINT ONLY guided reading leaflet in Literacy Time PLUS for Ages 5 to 7, January 2009.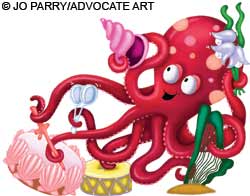 Before reading
Talk to the children about what a fantasy story is. What other fantasy stories have they read before?
Explain that, just as in other stories, the story they are about to read or hear has a clear beginning, middle and end and the main character is called Orlando.
What would they expect to see under water in the sea? Ask the children to remember these ideas while reading/listening to the story. How do their ideas compare to those in the story?
Explain that there are examples of alliteration in the text. Remind the children what alliteration is and scan the first sentence to find an example of it (elegant, electric eels).
Tell the children that the author also uses a lot of adjectives and adverbs to make some interesting sentences. Read out the first sentence of the paragraph on p2 that begins 'Orlando crawled away into the dark, murky ocean.' Discuss why this is more interesting than a sentence like 'Orlando went off into the ocean'.
Reading the text
The story could be read over two guided reading sessions, as follows:
Session 1
Let the children read to the bottom of p2 ("Your tentacles are perfect for playing instruments," she sang. "Try these."). Listen to each child read individually. Encourage them to use strategies to work out words that are not completely decodable.
Talk about what has happened so far in the story and what they predict the mermaid is going to suggest Orlando does at the birthday show.
Previous learning
Children should have had experience of: listening to/making up stories; exploring the meanings of new words; making phonetically plausible attempts at more complex words; exploring story elements of stories; recognising common digraphs; writing sentences and simple stories.
Key learning outcomes:
To tell real and imagined stories using familiar story language;
To know how to tackle unfamiliar words that are not completely decodable;
To read HF/MF words independently/automatically;
To recognise/use alternative ways of spelling phonemes already taught (eg, ae sound spelt with 'ai', 'ay' or 'a-e'; ee sound spelt as 'ea' and 'e');
To comment on events/characters and give reasons why characters change.
Session 2
Let the children read from the top of page 3 to the end of the story.
Discuss how Orlando's character changed. What did he find he was talented at? Which talents do the children have? Link this to

SEAL

work on feelings and achievements.
Responding
Praise the children for parts they read well during the story.
Ask the children to share with the group words they struggled with. Look at the words together and talk about how to work them out. Is it a word that can be broken down into phonemes and sounded out? Can it be chunked into shorter words? Is it a word that can be worked out from the context by leaving a gap, reading on and going back to it?
Look on the first two pages for words that contain vowel phonemes you have been learning recently – perhaps ee (deep, seaweed, eels, sea, creatures).
Reading Progress Record sheets
Detailed Reading Progress Record sheets, linked to each Assessment For Learning Focus, are available for subscribers to download here. The sheets have been designed to be completed by children and teachers together. Writing Progress Record sheets are also available here.
Follow-up activities
Draw, paint or use collage to make a fantasy underwater setting. Alternatively, create an under the sea landscape in a large tray. Write sentences to describe it, using adjectives as imaginatively as possible. Extend these, and make up some new underwater stories.
Provide props and ask the children to make simple stick puppets to retell the Orlando story.
Make a list of adjectives that describe how Orlando might have felt at the start of the story – eg, hopeless, clumsy, sad, disheartened. Then write a list to compare how he felt at the end of the story – eg, proud, excited, pleased, uplifted.
How many examples of alliteration did the children spot in the story? Use the activity sheet below to write some new alliterative sentences about some underwater creatures.
Use the record sheet on the activity sheet below to assess the children's reading during the guided reading sessions.