World Book Day the biggest annual celebration of books and reading in the UK and Ireland. To help you join in the fun, the Literacy Time PLUS team has chosen five great reads for you to share with your children – books that lend themselves particularly well to discussion and classroom activities.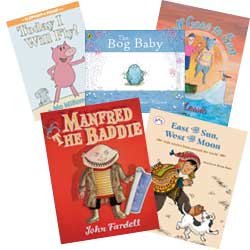 Wolf Goes to Sea
Rob Lewis
(Pont Books, 978 18432 39048)
Wolf is the last creature of his kind in Wales. He likes his house by the sea, and taking tea with his friend, Nain, but he longs to meet other wolves, just like him. So Nain helps Wolf stow away on a ship and he sets off on a journey through blizzards and hailstorms, icy seas and deep forests.
Although Wolf finds what he is looking for, he soon realises that there is no place like home. But one tempestuous sea voyage is enough for any wolf, so it is through the windows of a train that he marvels at lands of varying colours as he makes his journey homeward.
This touching tale is told beautifully in rhyming couplets, making it perfect for more able independent readers or for sharing as a class. Readers can get lost in the carefully drawn, multicoloured landscapes – from the tulip fields of Holland to the onion-shaped domes of Red Square.
Activity ideas
Track the route Wolf takes on a map of Europe. Collect real pictures of the countries he visits.
Write letters or postcards to the wolves in the north, telling them about where you live or a place you have been on holiday.
Create a class poem, using rhyming couplets, with the title 'There's no place like home'.
East of the Sun, West of the Moon: Folk stories from around the world
Roger Hurn
(Rising Stars, 978 18468 03697)
This varied collection of folk tales comes from countries including Korea, Indonesia and Malta. There are creation stories, ghost stories, stories with morals, stories with tricks and plenty of talking animals. The diversity of subject means there's an ideal tale for every occasion, and many of the stories illustrate citizenship subjects like sharing, or working as a team.
Child-friendly illustrations throughout, and a map of the world, showing the places the folk tales originate from, add depth to the collection. The stories are particularly good to read aloud, but watch out – some of the ghost stories may be too scary for younger children!
Activity ideas (focusing on the Helpful Monkey story)
Read the story to/with the children. What do the children think the moral of the story is?
Ask groups of three to make masks and costumes and act out the story to the class.
Locate Indonesia on the map, and find out information about the country, its people and culture.
Manfred the Baddie
John Fardell
(Quercus, 978 18472 44826)
Manfred the Baddie is very bad indeed. He gets up to all kinds of crimes, but it is a common cold which finally catches him out.
Nobody cares enough to wipe his fevered brow, make him soup or keep him company while he is stuck in his sick bed. So he takes his doctor's advice, becomes a reformed character and never does anything really bad again …. or does he?
A picture book to savour, with a cheeky sense of humour, lots of boy appeal and great use of detail which entices you back through the pages again and again.
Activity ideas
Discuss how you could reform some classic storybook baddies, such as Captain Hook or Snow White's evil stepmother. What event might trigger their change of character? List the good deeds these people might do after they have changed.
Manfred kidnapped inventors and forced them to build machines for his diabolical crimes. Design new inventions to be put to a good use or a diabolical use, adding labels to explain how they work.
The Bog Baby
Jeanne Willis
(Puffin, 978 01415 00300)
When two young sisters sneak off to the pond in the bluebell woods they find a Bog Baby. They make him a home in a tub, feed him cake crumbs, take him for walks and show him to their friends. But when he becomes sick, they learn that if you love something, you have to let it go.
This lovely story has beautiful illustrations by Gwen Millward that will make you want your own winged Bog Baby. It lends itself to lessons about the environment and caring for animals, as well as discussions about the children's and Bog Baby's feelings.
Activity ideas
Pond-dipping is a must after reading this book! Create a labelled poster of a pond and the animals and plants found there.
Answer the questions about Bog Babies from the back page of the book.
Write descriptions and draw pictures of another (imaginary) creature you might find in the bluebell woods.
Win five great reads for World Book Day
How are you going to spend World Book Day in your school? Email your ideas to littimefeedback@scholastic.co.uk by Monday 16th February 2009, describing as briefly as you can how you plan to celebrate the event. All the ideas will be compiled and published as a special feature on the Literacy Time PLUS website in time for World Book Day. If we like your idea the best, we will send you all five of the fantastic books featured here.
Today I Will Fly!
Mo Willems
(Walker Books, 978 14063 14670)
Elephant Gerald and his best friend Piggie are opposites – Gerald is careful, Piggie carefree; Gerald worries, Piggie smiles. So when Piggie declares that 'Today I will fly!' Gerald's response is predictably negative. But Piggie uses her initiative to help her quest and, by the end of the book, Gerald announces: 'Tomorrow I will fly'.
With simple, but comical, illustrations and just a few words on every page, even early readers can attempt to read the text. The author's humour is evident on every page – the dry sarcasm of responses, such as Gerald's 'You need help', will have your class joining in the laughter!
Activity ideas
Ask for suggestions of other mad activities Piggie might try and create posters illustrating them.
Is Gerald worried about Piggie's safety? Make a list of activities Piggie shouldn't try to do, including reasons.
How else might Piggie try to fly? (Eg, making wings). Write about her additional attempts and Gerald's responses.