World Book Day is the biggest annual celebration of books and reading in the UK and Ireland. To help you join in the fun, the Literacy Time PLUS team has chosen five great reads for you to share with your children – books that lend themselves particularly well to discussion and classroom activities.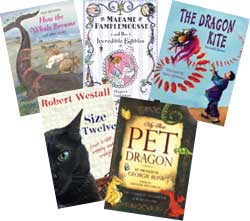 How the Whale Became and other stories
Ted Hughes
(Frances Lincoln, 978 18450 79284)
If you are looking for a story to read aloud to the children, you could start with any one of the eleven animal creation stories in this classic, witty and lyrical collection by Ted Hughes. Who would have thought that the first whale grew in a vegetable patch from a small black bean, or that the hare has such wild, shiny eyes, immense speed and leap, and long ears because it once fell in love with the Moon? The magic of such enchanting tales is captured perfectly in Jackie Morris' beautiful illustrations.
Activity ideas
How many more creation tales can you find – or examples of the same story told in different countries?
Pick an animal and think up a funny creation story for it. For example, How did the robin get its red breast? Why are fish said to be so forgetful?
Collect common sayings or similes featuring animals and their features – for example 'As strong as an ox', 'Sly as an old fox'.
Madame Pamplemousse and Her Incredible
Edibles
Rupert Kingfisher
(Bloomsbury, 978 07475 92310)
In the city of Paris, on the banks of the river, tucked away down a winding alley, there is a shop belonging to Madame Pamplemousse, and she sells the rarest, most incredible-tasting edibles in all the world. It is to this shop that young Madeleine is sent by her wicked uncle, owner of 'The Squealing Pig' restaurant, to steal Madame Pamplemousse's secret ingredients. But Madame Pamplemousse recognises Madeleine's culinary talents, and with the help of Camembert the cat, they expose Madeleine's uncle for the fraud that he is.
Weird and wonderful concoctions, sweet and sour characters, and line drawing decoration by Sue Hellard are a recipe for success in this deliciously original little novel.
Activity ideas
Write recipes featuring out-of-this-world ingredients – like Madame Pamplemousse's Sea Serpent Paté or Minotaur Salami.
Write menus for 'The Hungry Snail' restaurant.
Create posters advertising Madame Pamplemousse's shop.
Names like Monsieur Langoustine (the food critic) and Monsieur Lard (Madeline's uncle) tell us a lot about the characters. Think up some new character names – eg, for the diners in the restaurant. Draw and label each person.
The Dragon Kite
Kenneth Steven. Illustrated by Karin Littlewood
(Tamarind, 978 18705 16846)
Chang's father has made him the most beautiful dragon kite, and Chang can't wait to try it out. But a wild wind snatches the kite from his hand and carries it far away into the gaping mouth of a volcano where a lonely dragon sees it, believing he has a new friend. Chang brings the dragon back to his village – but a clever plan from his father is needed before the villagers will welcome this fierce-looking creature and offer it a new home.
Rich and exotic colour illustrations adorn every page, making this a visual treat and a great book for Year 3 and 4 readers to share.
Activity ideas
Use the information at the back of the book to explore the symbolism of dragons in China and the part they play in Chinese New Year celebrations.
Design and make paper kites.
Write a short story describing the adventures of a kite carried off on the wind. To where might it travel? Who might find it?
Size 12
Robert Westall
(Catnip, 978 18464 70684)
Valley Road Primary School has definitely seen better days. The children run wild and the teachers have given up. Then, one day, a black cat appears and jumps onto the desk of one of the bullies – and starts a 'cat'alyst of change for the better. The teachers are inspired, the children listen and even the school inspectors are impressed.
Both boys and girls will enjoy the new edition of this humorous, yet philosophical, story from Carnegie Medal-winning author Robert Westall. Covering issues including bullying, animal cruelty, the media and school life, it culminates with a surprising 'twist in the tail'.
Activity ideas
Write a diary of the events that take place, from the point of view of one of the main characters.
Develop one of the stories that Miss Morgan tells about cats from her childhood into a short story.
In groups, role play the media interviews with the Valley Road characters.
Win five great reads for World Book Day
How are you going to spend World Book Day in your school? Email us your ideas by Monday 16th February 2009, describing as briefly as you can how you plan to celebrate the event. All the ideas will be compiled and published as a special feature on the Literacy Time PLUS website in time for World Book Day. If we like your idea the best, we will send you all five of the fantastic books featured here.
My First Pet Dragon
Written by Professor Georgie Blink BSc, MSc, PhD, Dip Drag. Edited by Amanda Mitchison (Catnip, 978 18464 70660)
This fun book tells you all you need to know about caring for your first pet dragon: from grooming to feeding, and training your new pet. Breed varieties are described – will the children choose the aggressive Pit Blutgnasher, or the fussy Imperial Blue-Banded Squirrel Dragon? Of course, if they have any problems with their pet they can write a letter to Professor Blink, like the characters in the book!
This book's great design features a singed front cover and soot marks throughout, while Andy Rowland's comical illustrations and a variety of scatological references will raise a laugh (and the occasional Eeurgh!).
Activity ideas
Describe a new breed of dragon – give details about its egg, flame range, medical problems and pros and cons of ownership.
Write a letter to Professor Blink about a problem dragon, saying how the issue was resolved.
Design a 'Dragon Product' (see Chapter 15) that might help a dragon's owner.