A recount of a child's life in a typical Victorian workhouse, complete with a virtual tour. Children can click on hot spots to reveal labels, captions and further information and to hear sound effects.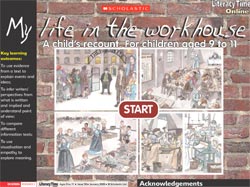 Leaflet 1 and Leaflet 2 offer extracts from Berlie Doherty's novel and play Street Child, featuring a London workhouse. This on-screen resource can be used before or after the group reading sessions to explore the fact behind the fiction. It includes a virtual tour of a workhouse. Children can click on hot spots to reveal labels, captions and further information and to hear sound effects.
Before reading
What do the children know about workhouses? What do they expect to find in the text? What are their feelings about workhouses?
Discuss how to navigate the text and what to click on first.
Reading/responding
Read the text together or read it in pairs/as a group/independently.
Challenge the children to find specific information and to explain how they found it. Was the resource easy to use? How has the writer brought the information to life?
Compare a daily workhouse routine with the school timetable.
Compare the text with that in Leaflet 1 (from Street Child by Berlie Doherty). How does the purpose and language of each text differ?
Previous learning
Children will need to be able to: use personal strategies to learn new and irregular words; identify and summarise evidence from a text to support a hypothesis; explain how ideas are developed in the text; use organisational features to find information; shape material to write informative non-narratives; combine words, images and other features; clarify point of view.
Key questions
Explore some key questions, encouraging the children to explain their opinions/answers using evidence from the text:
Why did the family have to go to the workhouse? How might the fire have started?
How would the family's situation be different today? Are things better or worse now?
What groups of people were in the queue outside the workhouse?
How would their lives be different if they lived now?
What is meant by the word 'lunatic'? Would we use it to describe these type of people today? Is it a fair description or is there a better word we could use?
How might it have felt to be separated from your family?
How would you feel about having your hair cut short to prevent lice?
How would you have fared in the dormitories? Would you have ended up fighting or quarrelling? Would you have liked to use the barrel?
What does 'there was no hot water there' tell us about the water they washed with?
What do you notice about the way boys and girls are treated in the workhouse?
Why was Christmas different? Why did visitors come?
Key learning outcomes:
To present a spoken/persuasive argument, sequencing points, defending views/participate in whole-class debate;
To improvise/work in role to explore complex issues;
To use evidence from a text to explain ideas;
To infer writers' perspectives;
To appraise/compare/write narrative/information texts;
To develop prediction, visualisation and empathy techniques;
To use

ICT

programs to present texts/communicate ideas.
Useful website
Speaking and listening/drama
Hold a whole-class debate or write a persuasive argument 'for' or 'against' workhouses – either in role as adults from the 1800s or as historians considering whether workhouses should be reintroduced. Explore how connectives can contribute to an argument.
Improvise the scene in which the mother tells her family they are to move to the workhouse. Develop a written script.
Act out a school lesson in the workhouse – with the teacher as a schoolmaster/mistress.
Ideas for writing
Research workhouses further. Create a working wall, pinning up notes, pictures and ideas collected.
Find out more about the food inmates were given. Make up recipes using the ingredients.
Write a short description of the outside of the workhouse, using figurative language.
Write a diary entry of another child in the workhouse.
Using the activity sheet below, plan and create a PowerPoint presentation to teach other children about workhouses. Use fiction and non-fiction writing skills and create 'sound bites', using inference and empathy skills. Alternatively, design a website about workhouses.