Orders to be observed by the Poor in the Doncaster workhouse
1 January 2009
Add to My Folder
This item has 3 stars
of a maximum 5
Rated 3/5 from 2 ratings (Write a review)
This non-fiction text is a genuine historical document dated pre-1834. It comprises the rules of the Doncaster workhouse and shows the weekly menu. It is useful for language analysis, in that it provides examples of the use of the imperative and contains formal/impersonal language and vocabulary of the 19th century.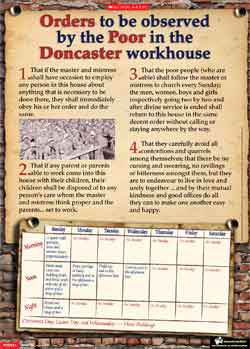 Before reading
Elicit information about the Victorian period. Construct a mind map of important dates/themes.
Read Leaflet 1 and On-screen resource 2 which provide valuable background information about this period.
Watch clips from films set in Victorian times – eg, Oliver Twist.
Discuss the text layout. Identify the text type and its typical features – numbered points, formal language, tabular information.
Guided reading
Discuss the style of the written rules – eg, highly elaborate and sounding awkward compared to modern day speech. ('shall have occasion to employ…') and old-fashioned and formal in style.
Discuss unfamiliar words (eg, revilings) and suggest meanings which fit the sentence context.
Explore how word meanings can change in different contexts – eg, 'no bitterness' instead of 'arguments'.
Decide what is meant by unusual words in the menu – eg, quart, flesh meat, roots, pudding broth, pease porridge, furmity.
Read the rules carefully and decide what each one means in modern-day English.
Give the children the word search on the activity sheet below, which challenges them to find words from the poster linked to modern-day meanings.
Previous learning
Children should be aware of: the Victorian period and the socio/economic background of workhouses; the terms 'imperative' and 'formal language'.
Responding
Appraise the text, considering its audience, and assess its value. Is the language clear and unambiguous? Infer the writer's perspective.
Discuss the tone of the text. What language emphasises its severity? Select verbs and highlight the imperative form – eg,: "That they… avoid all contentions…"
Discuss underlying themes and points of view. Does it seem that the writer thought people in workhouses had no option but to do as they were told?
Comment on the food offered. Was it of a good quality? Plentiful? Varied? Compare with a modern '5 portions of fruit and vegetables diet'. Discuss why alcohol was offered.
Comment on the emphasis of Christian values. How does that compare with today?
Look at Leaflet 1 and On-screen Resource 2 to compare different types of narrative and information texts and identify how they are structured.
Ideas for writing
Note down the most important information contained in the text.
Write a diary, as a workhouse child, about your experiences, feelings and hopes for the future.
Adapt the text into a poem called 'Workhouse Blues'. Note down information from the text and link with feelings that workhouse children may have had. Describe what caused their move to the workhouse. Adapt sentence construction to a poetic form and experiment with order of verses to create different effects. Punctuate using a variety of marks and use enjambment. Select words which fit in with the style and period. Use gothic handwriting/fonts when presenting.
Plan a healthy recipe sheet for the workhouse poor. List ingredients then use time connectives to order/link instructions.
Key learning outcomes:
Year 5
To compare different types of narrative and information texts;
To write fiction/factual texts;
To make notes on/use evidence to explain events or ideas;
To use different question types and how words are used.
Year 6
To appraise a text quickly;
To understand underlying themes, points of view;
To understand how writers use different structures to create coherence/impact;
To compare how writers from different times/places present experiences/use language.
Plenary
Share/comment on the written workhouse diaries. Do they evoke empathy?
Discuss the poems. Do they rhyme, have rhythm, include facts about the workhouse?
Comment on the style, language and descriptive choices.