World Book Day is the biggest annual celebration of books and reading in the UK and Ireland. To help you join in the fun, the Literacy Time PLUS team has chosen five great reads for you to share with your children.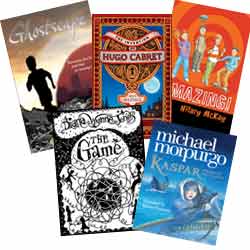 The five books featured here have been chosen because they lend themselves particularly well to discussion and creative classroom activities.
The Game
Diana Wynne Jones
(Harper Collins, 978 00072 63790)
Hayley has been brought up by her grandparents. Her Grandma is extremely strict, while Grandpa is always beavering away at his computer studying the mysterious Mythosphere. One day he gives Hayley a glimpse of this forbidden magical world – a world with which she will soon become far more familiar.
When Grandma can't cope with Hayley any longer, she sends her to Ireland to live with her cousins. They introduce her to 'the game', which involves adventures in the forbidden Mythosphere among characters from Greek myth and ancient folklore. Hayley is about to discover the truth about her rather extraordinary family.
A mesmerising, magical story which will intrigue and delight the children.
Activity ideas
What would it be like to be packed off to another country to live with family you hardly know? Write a diary entry describing your first impressions of your new home.
'The game' Hayley plays involves instruction cards – eg, 'Fetch a golden apple from the orchard of Hesperides'. Invent board games set in a mythological world, with instruction cards and forfeits – eg, You meet a minotaur. Go back 3 spaces.
Find out more about the constellations and the mythological characters they are linked to.
The Invention of Hugo Cabret
Brian Selznick
(Scholastic, 978 14071 03488)
This is a book with a difference. The illustrations – drawn in black and white to reflect the flickering images of the silent movie era – do more than accompany the story, they are part of it. It's a mystery, set in Paris, about an orphaned boy called Hugo who leads a secret, hidden life maintaining the railway station clocks. His spare time is spent trying to rebuild a mechanical man that belonged to his father, following instructions in a treasured notebook. When the toy booth manager catches Hugo stealing, he confiscates the notebook. Hugo's desperate attempts to get back his sketches force him to reveal details of his secret life – but in return he discovers an even bigger secret from the old man's past.
Activity ideas
Create a series of pencil or charcoal drawings to retell a famous story scene, copying Brian Selznick's style.
Create your own silent movie using digital cameras and key speech and captions written on large cards. Choose and act out a scene from the story – eg, when Hugo is caught stealing.
Read an extract from the book, find out more about its author and the story's origins, and plan your own story about a treasured possession using these special Literacy Time

PLUS

resources.
Win five great reads for World Book Day
How are you going to spend World Book Day in your school? Email us your ideas by Monday 16th February 2009, describing as briefly as you can how you plan to celebrate the event. All the ideas will be compiled and published as a special feature on the Literacy Time PLUS website in time for World Book Day. If we like your idea the best, we will send you all five of the fantastic books featured here.
Amazing
Hilary McKay
(Barrington Stoke, 978 18429 95303)
Peter is the quiet one of the four friends – he just listens to their amazing stories. Greg plays basketball, Sam plays the drums and Jacob goes everywhere by skateboard. Peter thinks he must be the most boring person ever – his granny isn't hairy, his cat doesn't smell and even his resident ghost isn't really scary!
This entertaining short tale has well-drawn characters and great dialogue with Mike Phillips' comical illustrations complimenting the story well. With an interest level of 8-12, but a reading age of eight, it would be great for PSHE work on what makes each person special.
Activity ideas
Conduct interviews in pairs, to find one amazing fact about a classmate.
At Peter's sleepover, the boys describe imaginary ghosts. Create your own evocative prose describing a ghost.
The boys tell tall tales about their parents' cooking. Try to outdo each other talking about the worst meal you have ever had!
Ghostscape
Joe Layburn
(Frances Lincoln, 978 18450 78263)
Aisha, a refugee from war-torn Somalia, is shocked to meet a 1940s boy called Richard in the girl's toilets. As she travels between the Blitz in the past and the bullying in her present, with Richard's help she faces her problems – but can she save Richard from his future?
This book is packed with vivid descriptions and character sketches: of the wartime East End of London and of Aisha's father, killed in Somalia. The themes – bullying, cultural differences, war – are drawn well, but not overstated. Colloquial dialogue makes even the minor characters believable, and the ending reveals an unexpected surprise.
Activity ideas
Find out about the history of your school, or a local building, during the Second World War.
Imagine meeting a character from another time at school. Make a list of questions to ask them.
Rewrite one of the scenes from Aisha's friends' viewpoint. Would they believe her story?
Kaspar: Prince of Cats
Michael Morpurgo
(HarperCollins, 978 00072 66999)
Johnny Trott, a bellboy at the Savoy, helps to look after Kaspar – the cat of Countess Kandinsky – during her stay. But when the Countess dies, events are set in motion that see Johnny, and American Lizziebeth, involved in rooftop rescues, theft and shipwreck.
With each chapter introduced with one of Michael Foreman's evocative illustrations, Michael Morpurgo's story isn't just packed with adventure, but touches on the inequalities of life for the poor in Edwardian times, the horrors of war and the dramatic, tragic tale of the Titanic. Moving, sad and humorous passages intersperse in a touching and memorable narrative.
Activity ideas
Research the Titanic's history. Write a recount, as though you there on the night it sank.
Create a play script of one of the book's scenes and perform for the class.
Write a short story of another adventure Johnny, Lizziebeth and Kaspar might have had in London.