Write some more lines for the poem inside our virtual Christmas card and you could win an extra present for your Christmas stocking!
Things To Find in Santa's Beard
A thousand crumbs from left mince pies
A thousand crushed and flattened flies
Soot from a thousand chimney pots
Dribbled sherry from a thousand stops
Holly berries, jokes from crackers
Sellotape, tinsel, present wrappers
Icicles and frosted beer
Spare carrots for his reindeer
All these and more, strange and weird
What else can you find in Santa's beard …....?
Smudged lipstick from a smitten nan
Mistletoe snagged as he ran
Bits of string and sticky bows
Snowflakes fallen from a cold nose
Broken drainpipes from a crash land
Enthusiastic helpers lending a hand
Some little branches from a robin's nest,
A little elf and a little vest
Cold white snow and
A lovely bow
A pretty smell of holly,
A doll called Polly
A leaf from a Christmas tree,
And a buzzy bumble bee
Lots of lollipops, oh so sweet
And some yummy meat
A boys shoe made of leather,
And a fluffy robin's feather
Green slime, oh how weird,
Now I'm in his beard
A long grey hair from a long grey cat
A long piece of a long hat
A present lost for many years
Still stuck in Santa´s big fat beard
A spare candle to light up a house,
And a little present to give to a mouse
A toy tank from a toy army,
And a puzzle cube to send you barmy
There´s a piece of cake
And bread that´s not been baked
Smoke from the chimney,
Even an MP3
Santa´s beard has a little sphere
So shiny, I hear
Santa´s beard is dirty and weird,
And a little muddy, I feared
Scooby Doo
And a Christmas clue!
A Happy Christmas to you all!
Here on the Literacy Time PLUS website we have sent you a virtual Christmas Card designed by David Parkins and containing a poem all about Things To Find In Santa's Beard, by Paul Cookson.
Just imagine what it must be like for Santa on Christmas Eve, flying around the world all night delivering presents, stopping at millions of houses and travelling really fast. What sort of things might get caught in his beard? Things from houses, things in the sky, things found on roofs, things to do with the weather …
Why not write an additional pair of lines for the poem?
Win a Christmas poetry collection
Email us two more lines of poetry for Things to Find In Santa's Beard and, if your lines are added to the poem here on the website during December, we will send you a copy of Funny Poems For Christmas compiled by Paul Cookson (Scholastic, ISBN 04399344104). Don't forget to give us your full name, address and your age (if under 18).
Good luck and a Merry Christmas!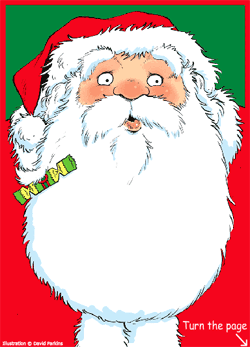 Thank you to…
Andrea Booth
Lisa Wilson
Georgia Yeomans, age 8
Bennett Meyer, age 6, Los Angeles, California
Alec Barcenilla, Aaron O Malley, Laura GonÇalves, Joe Slaymaker, Miguel Valera, Alex Barrenechea and Nicole Chantal Kuiper from Class 6M, and Christian Manners in Year 5, at the British School of Alicante
and to
Rebeca Kivijarvi Busto, Rocio Maria Pinera Sanchez, Andrea Garrido Moreno-Palancas, Maria Entero Ruiz, Blanca Lanzarot Facio, Erik Fernandez Martinez and Miguel Galan Lopex-Celada – all age 8 and all children in Class 4L at the British School of Alicante
...for sending us some additional lines to extend Paul Cookson's poem. A copy of Funny Poems for Christmas is on its way to you all!