Literacy activities: Cosmic brains, artists and atlases
19 January 2009
Add to My Folder
This item has 1 stars
of a maximum 5
Rated 1/5 from 1 rating (Write a review)
Use non-fiction books this World Book Day to help fuel children's enthusiasm for gathering new information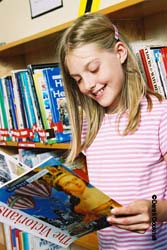 In bookshops, if I think I've found a non-fiction text of interest, I always turn to the middle and read. If it grabs me, I'm in! One of the great things about non-fiction is that we can start where we want to. In this respect, children will discover that reading non-fiction allows them to break some of the 'normal' conventions of reading a book. This World Book Day, while the children will undoubtedly want to get their noses stuck into their favourite fiction books, play on their natural inquisitiveness and promote non-fiction books, too. There are plenty of great examples currently on the market. For example:

See inside Your Head by Alex Frith and Colin King (Usborne, £8.99 HB) – an interactive lift-the-flap book with quirky 'lemming' style characters that delves inside the remarkable goings-on of the human brain.

The Pop-Up, Pull-Out Picture Atlas (DK, £14.99 HB) – a world atlas extravaganza with holographic cover, 3D globe and fun fact pull-outs to help inspire wannabe globe trotters.

Lives of the Great Artists by Charlie Ayres (Thames & Hudson, £9.99 HB) – a stunning portrayal of some of the world's greatest artists and their work. Feels like you can reach out and touch the real thing.

Cosmic! (DK, £14.99 HB) – outer space just got a lot closer to home with this explosive exploration of the stars and planets.

We have loads of World Book Day features on our website this month, including a fantastic interactive story competition!
Activities
1. Introducing non-fiction
Three easy ways of firing up children's enthusiasm for non-fiction are:
Index hunt - get the children to turn straight to the index page and find a word or reference of interest. They should then turn straight to this page. If they need to read back a page or two to explain some of the content, all the better.
Headings - invite the children to flick all the way through a book and try to remember two chapter headings or sub-sections that they want to investigate in more detail.
Pictures - I've seen so many children fixate on a picture as the thing that inspires them to read more, so encourage them to dig out great images.
2. Reading for purpose
One of the vital ways into a non-fiction text is to explore its purpose – what does the text do? Many non-fiction texts recount events, some present sides of an argument, others seek to persuade. One useful difference to recognise is that some texts report on something and some provide an explanation of a process. I sometimes describe this as follows: a report is like a photograph and an explanation is like a piece of film – one gives a picture the other records a process. In exploring non-fiction texts, it's worth encouraging children to ask: 'What job does this page/chapter/book do?'
3. Get the picture
The quality of illustration and photography in modern non-fiction is amazing. The new Eyewitness series by Dorling Kindersley, for example, provides the next best thing to physically holding creatures and artefacts through its excellent photographs. Here, again, the question to the children could be: What job are the images doing? Suggestions could include:
To illustrate the points being made. For example, the photographs in the Lives of the Great Artists show us the paintings being referred to.
To show the direction in which something happens. A book like See Inside Your Head both describes a process and maps out the route by which it occurs.
To engage our feelings. Persuasive books will often use illustrations to engage the readers' feelings. A book opposing pollution, for example, is enhanced by the image of a petrol-sodden sea bird. Cosmic! and other books about space give a sense of the awesome features they describe.
4. Novelty features
Many non-fiction texts these days have novelty features that quickly engage children. Cosmic! is full of pop-up universes while The Pop-Up, Pull-Out Picture Atlas has a 3D globe. One of the key skills we want to develop in children is the ability to read a text, take in its information and present it in their own way. These novelty features can help with that task. Take an example, such as the lift-up flaps in See Inside Your Head. Once they have read the main body text on a page, turn the children's attention to the flaps and ask them to describe what job they are doing. Ask them to explain what they see in the globe pop-up in The Pop-Up, Pull-Out Picture Atlas or the planets pop-up in Cosmic!. Encourage the children to present their own work in this manner where appropriate.
5. Layout techniques
It's rare these days to face a text with chunks of print and little else. Cosmic! opens with the big bang which, through amazing paper engineering and sound, leaps from the pages of the book. Less ambitious, but just as helpful, are the little information boxes that pepper pages – key facts, definitions, and so on. Children can explore these features and apply them to their own writing – particularly if they are covering the same topic. The beautiful reproductions of the paintings and accompanying snippets of artists' life stories in Lives of the Great Artists are complemented by small boxes exploring the paintings and suggesting things to do. Children could take this idea and use it to compile their own information page.
6. See inside
One way of getting children to think about a non-fiction text is by asking them to imagine that they are about to be paid a visit by an expert. A book like See Inside Your Head bills itself as giving insight into 'how your brain controls your senses, and even how to see inside someone else's mind.' Imagining that the children are trying to 'see inside' the brain of a visiting expert, what would they want to ask the visitor?
One trap teachers need to avoid is the rut where we only use texts that cover areas in the regular curriculum. The great thing about a book like See Inside Your Head is that it covers how the brain and our emotions work – fascinating stuff that children will hold a natural curiosity for. We need to keep putting books that break new ground in front of children and not limit their thirst for knowledge to topics in the curriculum. Non-fiction texts offer a great opportunity to communicate the enthusiasm we can have for finding out and understanding new things. It's called learning.