Learn some ICT lingo to help get your head around e-safety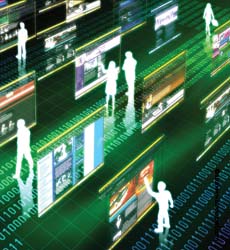 OK – hands up if you use the internet for any of the following: booking holidays, shopping, comparing prices, email, banking, buying insurance, lesson planning… My guess is that most of you use the internet for at least some of these. It's part and parcel of our everyday lives. Increasingly, it's part and parcel of children's lives, too. According to ChildWise, 90 per cent of children aged five to 16 now have a computer at home, and 99 per cent of children aged eight to 17 access the internet (Ofcom 2008). And, whether you love it or loathe it, the importance of the information superhighway looks set to increase.
Read the full length, PDF version of this article for practical e-safety steps to help keep children and teachers safe on the internet. See further advice and an e-safety poster.
Below is a glossary of some e-safety terms.
Attachment: An attachment is a computer file that is sent along with an email message. Children and teachers should be careful about opening attachments if they don't know the sender.
AUP: An Acceptable Use Policy is a set of rules that outlines what schools will and won't tolerate in terms of behaviour from children — and teachers.
Blog: Blog (short for weblog) is an online journal that is updated frequently and that anyone can read. Among other things, children should be aware not to publish theirs, or others', personal details.
Buddy list: A buddy list is a window that shows all 'friends' who are signed on to a social network. Children should only add friends that they know in real life to the buddy list.
Chat: Chat is real-time communication over the internet through written messages. Internet Messenger is a popular choice with children.
Chatrooms: Chatrooms are virtual rooms that allow users to 'talk' via text with a group of other users. The best chatrooms are 'moderated' by an observer who monitors and referees discussion. Chatrooms popular with children have been used by adults, posing as children, in an attempt to 'groom' them.
Content control/ filtering: Content-control and filtering software decides what content is available on a particular PC or network.
Cyber-bullying: Cyber-bullying is harassing, humiliating, threatening or embarrassing another person through electronic methods, such as instant messaging, email or text messaging.
Filtering: As the name suggests, this is about filtering out undesirable content. Although not fool proof (see 'Proxy websites', below), filtering can help prevent inappropriate web pages being presented to children. Filter services can protect against viruses and can filter inappropriate content and language in incoming and outgoing email. Most internet service providers (ISPs) for education provide a filtered internet service. These services typically block all illegal content on the Internet Watch Foundation blacklist as well as other sites considered unsuitable – including those requested by the school. Becta has a scheme to accredit ISPs for education (http://tinyurl.com/5hzcds).
Instant messaging: Like 'Chat' (see above), instant messaging or IM is a form of real-time text communication between two or more people on the internet.
Malware: Malware is software that infiltrates or damages a computer system without the owner's informed consent and includes viruses, adware, spyware and Trojans.
Phishing: Phishing is a fraudulent attempt to get personal information such as usernames and passwords.
Profile: A profile is a webpage that contains personal information that a user chooses to give about themselves. There are obvious dangers for young people here. Children should use nicknames and not reveal where they live.
Proxy websites: All computers have a unique address – the IP Address. It's these addresses that are blocked by filters. 'proxy' websites are sites that allow access to the blocked website. As the proxy site has a different IP address, it's 'let through' by the filter. Proxy addresses are hard to track because they are always changing.
Social networking: Social networks are online communities where people from anywhere can 'meet'. Sites popular with children include MySpace, Facebook and YouTube and share common interests. Most schools ban these sites, but children often try to bypass these restrictions (see 'call out box').
Web 2.0: This refers to what is seen as the second generation of web-based services – such as social networking sites, wikis, communication tools and blogs. Web 2.0 differs from Web 1.0 in its emphasis on collaboration and sharing.