Two budding sports reporters were given the opportunity of a face-to-face interview with two of Britain's top Olympic sports personalities. Find out how they got on.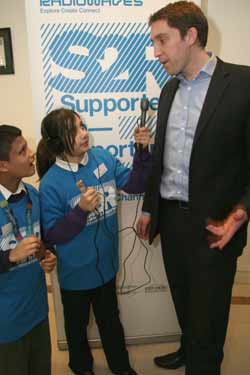 Fatimah and Sahib interview Olympic swimmer Steve Parry
Supporter to Reporter (S2R), is an exciting new initiative which gives young people the chance to share their passion for sport and develop their media skills at the same time. It is delivered through Radiowaves, a media website which has been working with schools to provide a safe space for children to publish audio and video podcasts.
Springwell Junior School in Hounslow is one of the many schools nationwide which has been getting involved and children there have set up their very own school radio station.
Two budding reporters from the school were invited to attend the national launch of S2R where the forthcoming National Young Sports Reporter of the Year awards were also announced.
Fatimah and Sahib, both in Year 6, went along to the Football Association HQ in London's Soho Square, where they were given a special, face-to-face interview with not one but two Olympic champions: swimmer Steve Parry, who won a bronze medal in the 200m butterfly in Athens 2004, and Sarah Webb, who, as part of the women's sailing team won gold in Athens 2004 and in Beijing in 2008.
Helen Watts, Editor of Literacy Time PLUS, went along to watch the children carrying out their interview and to talk to Fatimah and Sahib afterwards about their exciting experience.
The complete interview
Q: I believe, you've been doing some reporting already for your school's radio station. What has that involved and how has that prepared you for your interview with Steve and Sarah?
Sahib: We did our first live radio broadcast before Christmas which involved recording songs and telling a little bit about the songs in between each one. It was really good.
Fatimah: I was the main presenter on our first radio show so I presented the show and introduced everything.
Q: How did you learn the skills you needed to do that?
Sahib: The teachers helped us a lot and gave us a lot of activities to help us to get used to the new equipment.
Q: So how did you feel when you heard you were being invited to come to the Football Association Headquarters to interview some real Olympic heroes?
Both: Oh it was wicked!
Q: So how did you get ready for the interview?
Sahib: We had to do some research so that we knew a bit about the athletes. And then we had to prepare our questions in school and run through them with each other.
Q: What did you most want to find out in the interview?
Sahib: I was curious about what it took for Steve to become an Olympic champion.
Fatimah: I also wanted to how Steve started his career and how he got to the Olympics and what inspired and encouraged him to keep going for his dream.
Q: Did any of the answers surprise you?
Sahib: The story Steve told about the time when he was young and his family were on a boat on the river and he fell in the water – and how that made him want to learn how to swim.
Q: How are you going to use the interview that you have done with Steve and Sarah?
Fatimah: We are going to be broadcasting it on the school radio.
Q: What do you think your friends are going to say when you get back to school and tell them you met two Olympic champions – and even got to wear a real-life Olympic gold medal?
Sahib: They're going to be really surprised. They will be asking us lots of questions: 'What did the medals look like?' 'Who did you meet?' and lots more.
Q: Do you have any tips for other budding young reporters out there?
Sahib: Run through the questions before you ask them, so you know what you are going to say.
Fatimah: And make sure you know enough about the person you are interviewing so that you can go into your questions in more detail.
Q: Which sports are you interested in?
Sahib: I like racing and playing tennis. And I also enjoyed the sports facilities on our school trip to Kingswood. I loved the 'Leap of Faith' where you had to climb up a pole and leap off. I like things like that … where you don't know what's going to happen next.
Fatimah: I play basketball and I like swimming and football. I like getting involved in games.
Q: Do you either of you fancy a career in sports journalism?
Both: Yes, definitely!
Find out more
You can hear the children's interview with Steve Parry and Sarah Webb MBE on Springwell Junior School's radio station on the Radiowaves website.