Are you suffering from the January blues? Then now's the time to seize the moment and take your teaching international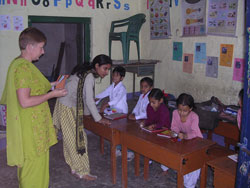 Teaching abroad can allow you to experience different cultures
As we look out at the grey skies at yet another shower of rain, we can be forgiven for thinking that life might be more comfortable in a warmer climate. This need not be a pipe dream, because every year many British teachers travel abroad to teach. One of the many advantages of teaching is that it is a transferable skill which is needed in every developed, and most underdeveloped, countries.
Teachers who have taught abroad often come back with renewed confidence and loaded up with lots of great ideas. A variety of teachers have told me that they found the following advantages to teaching in schools abroad.
In-school advantages
You can experience a new type of school and learn more about education. There is a wide variety of schools in the developed world, each with its own philosophy, style and method of teaching. Teaching abroad is a great way to learn more about education – and this gives you a large body of knowledge which will enhance your skills and career opportunities in the future.
The children are more highly motivated, so you have greater job satisfaction.
Their behaviour is easier to manage and so you can be more adventurous with your lessons. You lose the need to 'play safe' with challenging classes.
Teachers are treated like professionals. There is much less checking up on teachers in most countries. They are trusted more than in Britain, where senior members of staff regularly observe teachers' lessons and scrutinise their paperwork. And most attractive of all, you can forget about Ofsted for the duration of your stay!
Smaller classes. For teachers who are accustomed to classes of 30 or more, classes of half this size are most attractive.
The teachers I know were allowed far more freedom to experiment and deliver the curriculum in their own way.
The working day is usually shorter and so teachers have more free time and returned to the classroom properly refreshed.
The opportunity to learn a new language is always appealing, though this is easier in some countries than others. I know teachers who returned from countries abroad, fluent in a language of which they had little prior knowledge. Modern language teachers can perfect their accent, widen their vocabulary and enhance their prospects at home.
Some teachers have a need to 'put something back'. People who have had the benefit of a quality education are eager to contribute some time and energy to the developing world -and do so by teaching abroad for a year or two. This is a job for the teacher with a strong social conscience and an inventive mind, because they find themselves working in schools which are under-equipped and need teachers with the ability to improvise. However, they are often rewarded with children who are eager to learn and grateful for the teacher's efforts.
Some international schools are not so concerned about qualifications. Untrained graduates, who are enthusiastic and interested in teaching, can find jobs.
Out-of-school advantages
Although the salary is not usually high, it is calculated to give teachers a comfortable lifestyle. Some countries are so keen to recruit UK teachers that they do not require them to pay tax.
It is a fabulous opportunity to travel cheaply to neighbouring countries during the holidays, without the expense of long-haul flights. Some countries have more school holidays than Britain.
You can enjoy broadening your horizons by experiencing a new culture. Something mundane like a trip to the supermarket can be an opportunity to learn new vocabulary and the local lifestyle.
Weather. Bright, beautiful sunshine lifts the spirits and cuts out that dreadful

SAD

syndrome which attacks us in mid-winter. Even if you go to a cold climate, like Scandinavia, you can use the opportunity to improve your skiing, or enjoy the scenery.
Are there disadvantages?
You may find you have a greater extra-curriculum load. Sports, music and drama can be important in international schools.
Some schools abroad which rely on British teachers have a high turnover of staff, and this is difficult for teachers who like to work in a stable environment.
Even in a developed country, the schools are often not as well equipped as in Britain. Teachers say that they miss their local Waterstone's, Dylan's, Foyle's and W.H. Smith's!
There is unlikely to be a local teachers' centre, so continuing professional development is limited to what you learn in school.
So how do you find a job?
It has never been easier – simply search websites like www.teachabroad.com for vacancies. If the post is far away, you may be interviewed over the phone, or the school may have someone in Britain to interview you here. You can look at the school's website, but it is a good sign if they invite you to the school to teach a lesson as well. Many international schools will find you comfortable accommodation and some even give you a removal grant. All things considered, most teachers, whom I know, have said that teaching abroad was an enjoyable and worthwhile experience.